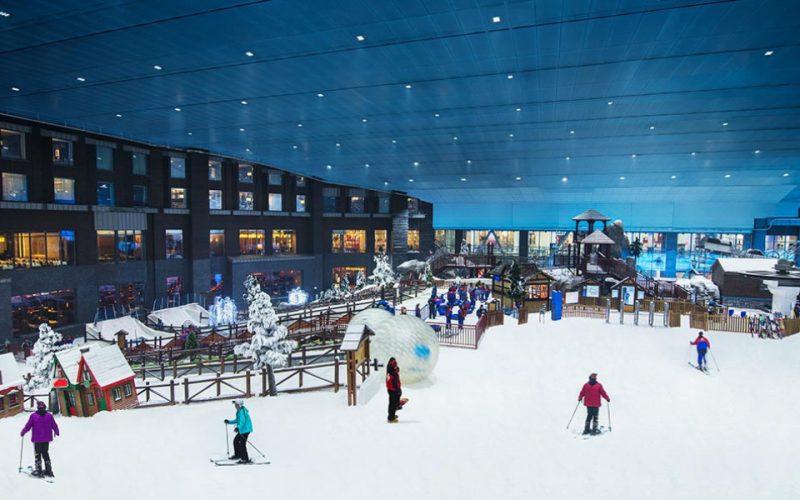 March 10, 2021
---
Every parent knows the best way to keep a child entertained is to keep them occupied in fun things. However, on a holiday, it is quite a dilemma to decide how to keep them interested in a new destination. Most kids find city tours to be boring and would love a distraction in terms of fun and amusement. Over the years, Dubai has shifted its focus from being a modern metropolitan to a family-friendly destination. In the last decade, it has come up with some amazing leisure and recreational areas that swiftly catapulted Dubai as a family holiday maker's premier choice for a vacation. There are loads of attractions that focus on keeping the little visitors intrigued, interested, and occupied in fun play areas and fascinating theme parks. Here are 10 options of Dubai's fabulous play areas, theme parks, and attractions that are fun spots for your kids to beat boredom and have a joyful time on a Dubai trip.
Ski Dubai
The first-ever indoor ski resort in the Middle East, Ski Dubai is perfect to escape the Arabian heat and enjoy a day in wintry landscapes. Located within the Mall of the Emirates, Ski Dubai offers a variety of snow sports and activities such as skiing, snowboarding, chairlifts, snow caves, and cute penguins encounters which kids would definitely love to experience.
KidZania Dubai
Let your kids step into a grown-up's world for a day. Located at Dubai Mall, KidZania Dubai lets children take charge of a mini-city and have fun while doing the responsibilities of grown-ups. The experience lets kids step into the shoes of a chef, doctor, bank manager, pilot, radio hosts to name a few. They can even earn money and utilize them in exchange for food and services at this attraction. KidZania Dubai is a fun zone that also teaches life skills to kids in an entertaining way. This is also an ideal place for parents to drop their kids off to have their share of fun while they go shopping inside the mall.
LEGOLAND Dubai
The first-of-its-kind park in the Middle East – LEGOLAND Dubai is based on the world-famous brick toy LEGOS which is one of the children's favorite building toys. Located within Dubai Parks and Resorts, LEGOLAND Dubai and LEGOLAND Water park are two popular kid-friendly attractions to visit for family vacationers. These theme parks have an assortment of rides, activities, and play areas that are designed to keep young visitor's interests in mind, even kids as young as 2 years old.
SkyZone
Located at Ibn Battuta Mall, Sky Zone is the first indoor trampoline park in the Middle East. It's a great place to visit with kids who never standstill. Watch them jump, tumble and do many more acrobats and channel their energy into an exciting day of just jumping around. The arena is apt for grown-ups and kids to get active and enjoy themselves together. There is a toddler zone for tiny tots to prance and tumble in a safe play area.
Mattel Playtown Dubai
A great place that fuses fun and entertainment with some of Mattle Town's familiar faces. Let your kids have a great time with Barney and Friends, Thomas and Friends, and Bob the Builder. Located at City Walk, Mattel Playtown is a great place to join in recreational activities and workshops, watch 4D movies and take part in performance and dance along with fascinating characters.
Oli Oli
An interactive play museum designed for little guests, Oli Oli is a unique fun zone where kids can observe and learn. It is a space where kids can freely wander, explore installations and discover new things. The attraction offers a fun way to get acquainted with science through safe and guided experiments, a series of galleries filled with wonder, and a delightful journey to the moon and back. It also has special afternoon workshops for kids aged 5 to 9 years.
Dubai Aquarium and Underwater Zoo
If there is one place that has a mishmash of attractions to keep your kids occupied, it is at Dubai Mall. The Dubai Aquarium and Underwater Zoo is nestled inside Dubai Mall and offers a sneak peek into the marvelous world of ocean showcased brilliantly. The children would love spotting a variety of fishes and marine creatures at this magnificent attraction. The entrance itself would leave them spellbound as they walk through a huge transparent tunnel filled with sharks and rays. They can also spot otters, penguins and even touch and feed Eagle rays and Cow nose rays.
Dolphinarium
Watch kids squeal and laugh in delight at the sight of dolphins and seals at Dolphinarium. Located at Creek Park, this indoor aquatic entertainment attraction is a popular spot for kids and grownups to have a great time together. The Dolphinarium is one of the best kid-friendly attractions to visit on a family holiday in Dubai. Here, kids can have a fun time with dolphins, watch them perform tricks, and even swim with them. It also has seal shows and bird show that entices its viewers especially young kids.
IMG Worlds of Adventure
Spend an entire day or two at the world's largest indoor theme park. IMG Worlds of Adventure welcomes you to a world filled with fantasy and adventure. Based on superheroes, cartoon characters, and dinosaurs, IMG World of Adventure have all the right ingredients to captivate a young visitor's attention. It has five zones based on MARVEL, Cartoon Network, Lost Valley of Dinosaurs, a mega cineplex, and IMG Boulevard where you can shop dine and enjoy a meet and greet experience with your favorite characters.
VR Park
Another mind-blowing theme park located within Dubai Mall; VR Park happens to be the first-ever virtual reality theme park in the Middle East. Comprising of over 20 unique games based on virtual and augmented reality, kids, teens, tween, and adults can escape from the real world and have solo or group adventures in a virtually simulated setting. The adventure level varies in theme and one can choose from horror, thriller, or leisure gaming experiences. The attraction also has specially designed virtual experiences for kids such as Sphere, Holocube, We Play, Virtual Rabbids to name a few.
About the author:  Monica Singh
Monica Singh is a freelance travel writer by profession. She is particularly fond of traveling and loves to jot down her experiences and cultural diversities of different countries.