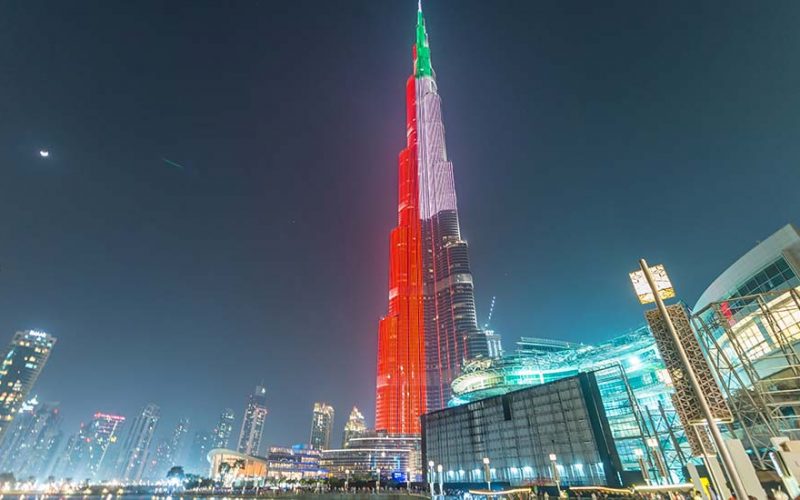 March 26, 2021
---
Must visit destinations and fun activities to do during UAE National Holiday
The month of December brings in a mood of holiday spirit and festivities with it. However, this winter month in UAE plays host to a myriad of festivals and events and it all starts with the UAE National Day. On December 2 every year, UAE celebrates its National Day extravagantly. On this day in 1971, all seven separate emirates came together to officially form the United Arab Emirates. Every year, this day is honored and rejoices with joy and vibrance and is a public holiday in UAE for its citizens. This year, the national holiday facilitates a long weekend for locals and visitors to relax and enjoy the stunning festive fervors in UAE. Here's what you should not miss on a UAE National Holiday.
Go city sightseeing
Be it Dubai, Abu Dhabi, or any other emirate of UAE, on this day the whole nation decks up in festive décor and colors of the UAE flag. The cities are simply fascinating to view on the UAE National Day holiday. Just a stroll through main attractions and landmarks or a city sightseeing tour lets you join in the vivacity and merriment of the emirates. Take a hop on hop of bus tours to witness the city's electrifying verve decked in colors and festoons of the UAE flag. The evening tour would be perfect to marvel at the city's dazzling illuminations where major landmarks such as Dubai Frame and Burj Al Arab Jumeirah would light up in UAE flag colors.
Explore Dubai Souks and Old Dubai
Venture out to experience the old-world charm of Dubai at Al Fahidi Neighbourhood and Dubai Creek. Old Dubai is the best place to experience the best of Emirati culture. Start your day with a typical Arabic breakfast at Arabian Tea house and later go shopping at eclectic Dubai Souks for traditional merchandise. Old Dubai is a great spot to experience the legacy of UAE, explore local Emirati cuisine, and witness the spirit of togetherness and warm hospitality.
Watch scintillating Burj Khalifa honor the UAE National Day
There is seldom any occasion where Burj Khalifa doesn't light up in illumination to celebrate or pay tribute. On UAE National Day, the grandeur takes a notch up when the tallest tower in the world sheaths itself in vibrant colors of United Arab Emirates. The spectacular laser and light shows are worth viewing and are the ultimate way to wish every UAE citizen the spirit of unity and prosperity.
Watch spectacular fireworks at night
The United Arab Emirates' starry skies dazzle and sparkle in the illuminated spectacle of firework displays on UAE National Day. On this special night, you could watch the fireworks from different spots in the UAE. In Dubai, Al Seef, Global Village, La Mer, The Pointe and Dubai Downtown are major areas where you can watch an amazing display of pyrotechnic presentations.
Gear up for the UAE National Day-inspired food scene
Food lovers are in for a treat on UAE National Holiday!  While the entire nation adorns in the nation's spirit and festivity, the same can be seen in the epicurean scene. On this special day, many homegrown restaurants and cafes throughout the emirates offer special discounts on menus, free emirate desserts and unlimited free-flowing beverages. This is the time when one can indulge in a variety of delicious specialties that are themed on UAE's national colors. You can sample some amazing treats such as National Day cupcakes, UAE Flag colored beverages like traditional sahlab to name a few. International restaurants also join in with UAE flag-colored dim sums, burgers and pizzas. In the week of UAE National Day, you will find everything from food and beverages to lip-smacking desserts teeming with colors of red, white, green and black.
Relish a scrumptious National Day Brunch
Don't miss the brunch time on UAE National Day. Many reputed and opulent hotels of Dubai and Abu Dhabi host special brunch buffets and meals with eclectic menus inspired by Emirati cuisines. Luxury hotels welcome guests for Afternoon Tea experiences and festive day brunches to delve into some innovative flavors at spectacular locations. This is a great way to spend a long weekend with good food and great company.
Enjoy Live concerts and shows
The entertainment sector during UAE National Holiday takes the center-stage with various local and international artist showcasing their talents at live concerts. This year, UAE plays host toModesh and Dana at the La Perle by Dragone. The Pointe is another spot that is exclusively going to unveil a special song called 'Aim for the Sky' composed in collaboration with Ihab Darwish. The song's tunes will be synchronized with the stunning choreography of Palm Fountain.
During UAE National Day, the nation will be adorned in Pan-Arab hues of black, green, red and white symbolizing strength and unity among the Arab worlds.  The festive flair steeps into the ambiance, aromas and flavors of the emirates. Meanwhile, the discounted stay offers, citywide discounts on shopping and entertainment will be an added appeal for you to visit this Middle Eastern destination in December. UAE National Day sets up the festive mood and is the perfect way to start the series of festivities that are to follow in December and the coming new year. If you are in Dubai during this time of the year or planning a trip, don't miss to join in the spirit of celebration and rejoice with the whole UAE.