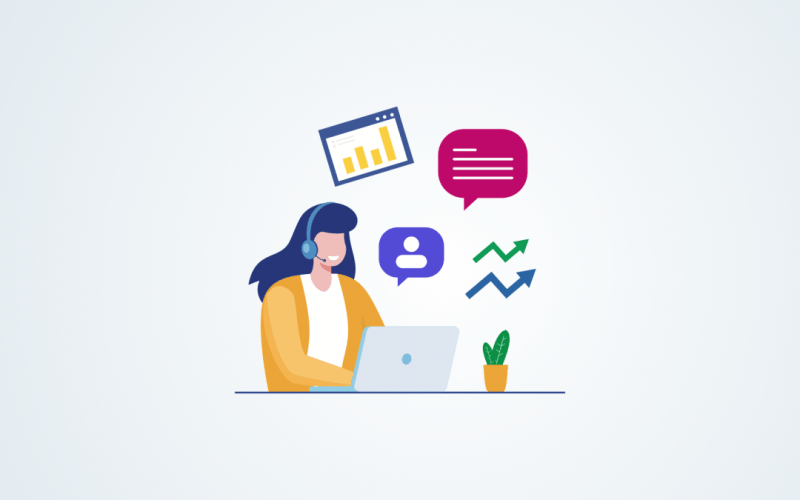 May 3, 2021
---
Do you want to engage with your existing and potential customers, create leads and enhance customer retention rates? Well, you need to start using managed live chat service feature within your business website to start reaping all of these benefits. Besides, this could be one of the most efficient ways to promote your brand, acquire valuable data and increase sales. That's promising — Right! Here are the top four advantages of using managed Live Chat for a business that you should know.
1. Managed Live Chat Services are Speedy & Handy
Live Chat option is not only convenient, but it is also fast. When you're providing live chat option within your website, your customers won't have to wait for hours or even days to hear back from one of your staff members through an email. Many customers don't like to stand in the queue of a telephone line, as sometimes even after waiting, the phone gets disconnected, resulting in wastage of time. Besides, some phone calls aren't free, and it can get rather an expensive option. Instead, customers can get answers to their questions via Live Chat feature in real-time, which is a fast, cheap and convenient option. The outcome — your website visitors are impressed with your agile and speedy customer service and are more likely to return to your website down the line.
2. Live Chat is Inexpensive
Live Chat option is inexpensive because there are no phone charges involved. And the solution you get in writing through online chat service — whether it is a quote or anything else, so you're 100% sure that it won't change and you can also save the chat conversation and keep it handy to refer at a later stage. Thus, a fully managed chat service will create a loyal customer base for your business, resulting in repeat business down the line.
3. You Can Enhance the Online Customer Experience
If you're having the best quality products or services than your competitors, still it will be difficult for your business to make a mark without having some types of customer support system in place. Whether you have an email or telephone support in place, it is vital to engage with your customers and solve whatever queries or issues they might have, which can ultimately help improve your sales and become a crucial part of the sales funnel.
Live chat is the newest platform through which customer interaction is done in real-time using Internet connectivity. That means, when a customer visits your business website and has a query for which he or she needs an answer, then through live chat, they can easily communicate with one of your staff members in real-time and get the solution they need. They might be looking for a quote for a specific product or service, they might have an issue with their online account, or they might want to get more information concerning one of the services you provide.
4. Getting Distinctive!
In the ever-competitive business world of today, you'll want your business to get distinctive by providing premium products or services and backing it up with reliable Live Chat functionality within the business website. Integrating a managed live chat feature within your business website can provide you with a progressive return on your investment over the period while offering something distinctive from your competition.
Moreover, managed Live Chat services are a vital part of your business' success, as it will help to move your potential prospects down the sales funnel and enhance your reputation as a company that values and cares for its customers.
The Bottom Line
If your business website is not taking advantage of a fully managed chat service, then you should take the next step by incorporating the Live Chat feature within your business website. It will help you to start the live chat service to provide the utmost convenience to your existing and potential customers. It will revolutionise the way you engage with customers online, and you'll start seeing an upward curve for your ROI (Return on Investment).