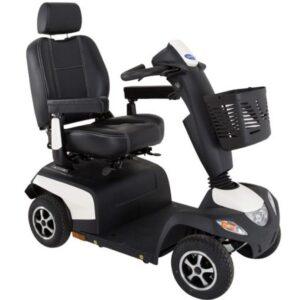 December 15, 2021
---
Many people find themselves in need of a mobility scooter for a variety of reasons. It doesn't matter what the reasons are for purchasing a mobility scooter, it is a substantial financial commitment.
Illness and being kept at home with nothing but newspapers and television may be heartbreaking for anyone who has ever been unable to leave the house due to illness or injury. But if you or a loved one has restricted mobility, don't let that stop you from having an active and happy life! A mobility scooter has a plethora of advantages, some of which are listed here.
1.
Increase Accessibility
Modern mobility scooters are perfectly suited to today's ever-changing societal norms.
As retail malls and public venues continue to improve their accessibility, mobility scooter users are finding it much easier to get in and out of these establishments. Mobility scooters can also be transported on public transportation.
2.
Injuries can be prevented
Falling and injuring yourself may happen to anyone, regardless of age or physical ability. Using a mobility scooter dramatically reduces the risk of fall-related injuries.
Mobility scooters reduce the amount of physical effort required to get about. This allows for a far more comfortable healing process, which can lead to a faster recovery.
3.
Demonstration at home
An investment of time and money is more rewarding when it comes from an experienced supplier with a proven track record of supporting people with disabilities.
Mobility scooter demonstrations can be arranged for a modest price by companies. It's a great opportunity to learn from a professional in the comfort of your own home.
4.
Easy to Use
 In most cases, a mobility scooter can be easily steered and operated in any location.
. Overcharging your mobility scooter will result in a progressive loss of power, so follow the manufacturer's instructions or consult customer service to learn how to charge properly.
5.
Increased Personal Freedom
Tired individuals will benefit greatly from mobility scooters. You don't need a carer or an aid to get out and about in this electric vehicle.
Mobility scooters can provide more than just physical independence. High-quality mobility scooter ownership is a long-term investment that will benefit you and your loved ones in many ways, including improved mental health and more peace of mind for you and your family.
6.      There's a Scooter for Every Situation
People's needs and preferences vary widely.
There are three primary categories of scooters that mobility scooters depend on their most common uses.
       

The smallest type of mobility scooter is the mini/portable. They're perfect for excursions to the grocery store because they're compact and easy to carry about.

       

The mid-range scooter is a medium-sized scooter that may be used indoors and outdoors. Pneumatic tyres and a fully adjustable seat come standard on these larger models, which are more comfortable and versatile than their tiny counterparts.

       

Mobility scooters classified as "road legal" are the largest and most comfortable on the market. Mobility scooters must have lights, horns, indicators, and rearview mirrors in order to be permitted on the road. There is no licencing or insurance required to use them.