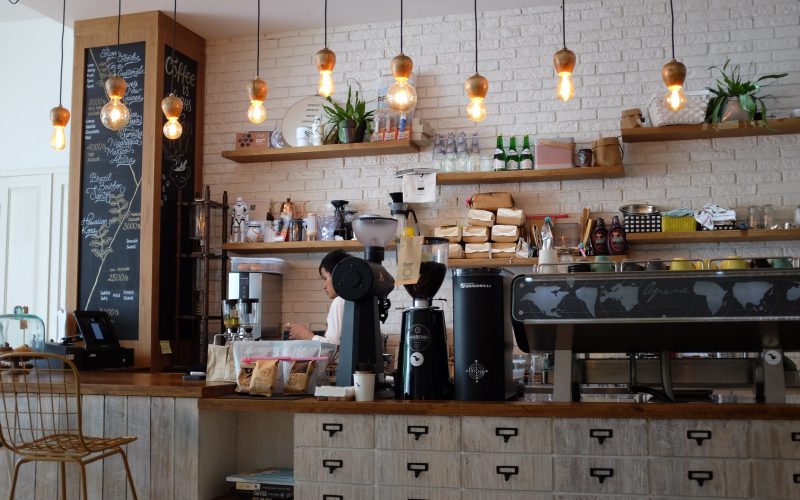 May 24, 2022
---
All over the world, millions of people start their day with a cup of coffee. Coffee is one of the most beloved drinks in the world and the coffee industry is growing and developing day after day. If you want to get a piece of that coffee cake, it might be a smart idea to open a café and start welcoming java lovers day after day. How does one start a successful café? Here are a few items to follow if you want to become an owner of a successful café business:
Start with a business plan
The same as with any business, when starting your café, it's important to have a good business plan. This document should contain many things that explain your business, but focus on what your business sells, who it serves, your target market, your competition, sales projections and important goals and milestones. For starters, keep your business plan short at the beginning (one-page pitch) before you go to the traditional long-form plan. When it comes to both business plan forms, you can find sample business plans online to use as inspiration.
Go looking for the best location
When it comes to businesses like coffee shops and similar, location is a crucial thing for success. Your customers need to be able to reach you easily when going to work, walk or school. Also, the café needs to be visible, with a lot of passers-by, and placed in a location that fits your design vision. Finding a dream location for your café will not happen in a day—it's a process that will take months of searching. However, make sure to be patient and open-minded. If you need help when it comes to knowing where to look, a smart idea is to keep an eye on former restaurant spaces or taverns (this way, you won't have to design everything from scratch).
Furnish the place
Depending on the previous purpose of the space you've just bought or leased, it's time to furnish it and equip it with all the necessary elements for your business to run. Make sure to choose a unique design that will make your space stand out and provide customers with plenty of interest points to photograph and enjoy. If you're opting for a very bold design of the space, contrast it with simple chairs. Check out classic bentwood chairs from Adelaide and you'll see that they fit perfectly into any interior. These are built to last and stand the test of time in both the physical and aesthetic sense, so your investment will be safe. And of course, make sure to buy or rent all the coffee-making equipment, as well as unique cups and plates. People today want a unique setup, service and presentation they can enjoy first with their eyes, then with their mouths.
Don't neglect the exterior
Most owners obsess about the indoor look of their establishment, but if you live somewhere that gets great weather all year round (Australia, California, Florida, Spain, etc.), you must consider your outdoor space too. Besides paying attention to the façade, landscaping and signage, it's also crucial to create an outdoor seating area. Many people love to enjoy their coffee outside, relax in the fresh air and watch people go by as they drink their beverages. Equip your outdoor seating area with plenty of shade, dreamy outdoor furniture (you can match with your indoor furniture to create a coherent vibe) and plenty of greenery for relaxation and privacy.
Set up your digital aspects
Even though coffee places can be quite traditional when it comes to service and ambiance, you need a few programs to make your service better. Ask professionals to set up your Point of Sale system and an inventory management system that allows you to provide top-notch customer service. Choose whichever program you want, just make sure that it allows the customization of the floor plan, inventory management for easy stock control, product modification (like when selling different sizes of drinks or including different toppings), tools for running happy hours, discounts and bonus programs, and statistics reports.
Start marketing
You need to build hype around your café much before it opens. The best way to do so is to use social media to document the opening process and show your progress to your followers. Tag your realtor and give them a shout-out, and do the same with all the business partners you're planning to work with in the future. By mentioning other brands and commenting on your city's pages, you will get your café's name out there and push people to become curious. You can also take part in local activities. While presenting your products at a local food market or treating people with coffee at a local festival isn't free, it brings a great ROI.
Make sure to also get all the necessary permits, create contact with suppliers and hire the right staff. And there you have it—your café is ready to open and start acquiring its first loyal customers.