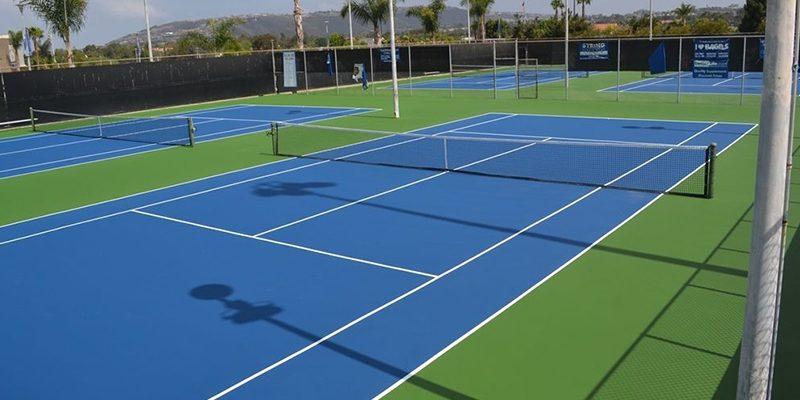 December 28, 2021
---
Clay, grass, hard courts, carpet, and artificial courts have been used for centuries for playing tennis. There is an advantage to playing tennis on each type of surface and each type can challenge players in different ways. It is common for certain playing styles to be more effective with certain types than others.
Clay
Clay courts can be constructed of compressed shale, brick, or stone. The installation and maintenance of these surfaces are relatively cheap and easy but is quite expensive when compared to the cost of artificial tennis courts. It is very important that the clay's water balance is watched and balanced, and it is also important to roll the court periodically so that it stays flat.
Traditionally, clay courts are selected for use in the French Open. A slower game is typically played on these courts and balls bounce higher. Baseline players also tend to do well on these courts. Europe and Latin America are the most popular regions for these courts.
Grass
Because of the high cost of watering and mowing, grass tennis courts are less common today than they once were. The conditions on these surfaces are more a function of the weather than those on clay or hard courts. Grass must be kept very short and the dirt is hard-packed. Since grass bounces less than any other type of surface, it's the fastest. In comparison to clay or hard courts, players must obtain the ball much faster. The players with stronger serves and having good volley skills are therefore likely to perform better on grass courts. 
Hard Courts
There can be a range of speed differences between hard courts, depending on the size and quantity of sand blended into the paint coating of the court surface. A hard court tends to create an even playing field between athletes of different styles. A hard-court made of acrylic is used and during the Australian Open, a synthetic court is used. Despite the faster game and rigidity of acrylic courts, these surfaces can also be harsh for players and cause them injuries. Tennis courts made of artificial surfaces allow players to be able to enjoy similar usability and require low maintenance, as well as provide better shock absorption. However, one part cement and four parts aggregate make up a concrete curb composition that contributes to its strength for hard courts. As a result, you can rest assured that your concrete curbing will be able to survive the rigors of high traffic and harsh external weather conditions. To ensure the long-term viability of your curb, it is essential to adhere to the mixing ratio.
Carpet
A carpet court is a tennis court surface that can be removed. Artificial turf, hard rubber, and other materials may be used to create these. They will generally allow players to play at a fast pace.
Artificial Grass
In the same way that courts made of artificial clay or carpet are made, artificial grass courts are built similarly. First, during the tennis court construction, a regulating base layer is built, followed by a special type of turf. Despite looking like grass, the top layer of this type of court requires quite less maintenance and is much less taxing on the body. 
As the ball slides and stays close to the ground, this surface feels similar to grass courts. Despite this, the surface is not slippery as grass, which allows players to maintain a better grip. An alternative to private tennis courts, they can be built in a park or a private residence. Artificial grass courts do not host professional tournaments.