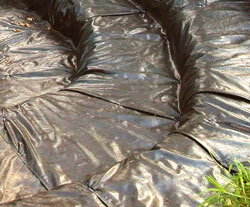 August 14, 2020
---
Pond liners have advanced dramatically over recent years. Today, one of the most popular choices is that of the EPDM liner – in particular those created by the manufacturer, Firestone.
The following looks at the reasons why these liners have become the gold standard when installing or refurbishing a pond. It also discusses why Firestone has become the EPDM liner of choice for those in the know.
What is EPDM?
EPDM stands for Ethylene Propylene Diene Terpolymer – it's a synthetic rubber used for many different applications.
Advantages of EPDM are:
It's incredible versatility
Exceptionally durable (in certain instances it can last as long as 50 years, although typically is guaranteed for 20-30 years when used as a pond liner)
Excellent air and watertight properties
Ozone, UV rays and weather resistant
Has good insulation properties, meaning it can withstand both heat and low temperatures
Extremely flexible
The case for using EPDM liners for ponds
It's no secret that over recent years EPDM has become the most popular choice for lining garden ponds. In addition to the general advantages listed above, the following are pond and water feature specific reasons for using such liners.
Versatile: Because of its flexibility, EPDM will mould to fit any pond design. This allows for true creativity when it comes to deciding the shape, with no limits, such as those imposed by pre-formed liners.
Flexible regardless of temperature: The liner remains flexible from -40C to +80C, allowing easy installation no matter what the ambient temperature might be.
Simple to install: Firestone liners require no specialist skills to install, making them great for DIY, as well as professionally designed ponds.
Aquatic friendly: The material is extremely stable (chemically inert), posing no risk to plant, fish and other wildlife.
Extremely low maintenance: EPDM liners from the Firestone range are incredibly hardwearing. This means that throughout their lifespan (typically 20-30 years, or even longer, depending on type) they should require zero or minimal maintenance. If they do require care this can easily be carried out in-situ using a dedicated EPDM repair patch. They're also plasticiser free, so resistant to becoming brittle with age and suffering the resulting splits and cracks.
Remarkably weather resistant: Especially important with the extremes of heat found in Australia, EPDM withstands ozone, high temperatures and UV rays.
Elongates: Should the earth move or a tree root or rock become dislodged beneath the liner, it can move and stretch to allow for this.
Why Firestone?
Firestone's range of EPDM pond liners can be easily installed in all types of garden water features. This includes:
Decorative ponds
Reflection ponds
Swimming ponds
Water features
Fountains
Waterfalls
Streams
Natural swimming pools
Above and below ground ponds and water features
The range of EDPM panels produced by Firestone come in a variety of sizes, making it the perfect choice for the smallest of ornamental water feature or garden pond right though to large commercial products. Even the most novice of DIYer can easily use the low-tech seaming technique necessary to connect multiple panels if needed.
If you needed any more convincing as to why EPDM liners are the future of ponds across the globe, consider the following:
Extremely resistant to environmental conditions, such as algae growth and microbial attack.
Should animals (think dogs, cats etc) approach the water they can gain a foothold, so lessening the chances of slipping in or, if they do, are able to gain enough traction to climb out and escape (unlike the hard plastic used in more traditional pond liners).
Can easily be shaped to accommodate bespoke features, such as waterfalls.
Seamlessly integrates into any environment.
Taking all this into account, it's no wonder that EPDM is becoming the material of choice for pond liners. However, it's always pays to get professional advice when building a pond. Australian specialists, Aquascape Supplies Australia, can advise on whether a Firestone EPDM option is the best liner for your situation, and they're also the ultimate one-stop-shop for all pond and water feature necessities.
Whether you're looking to build from scratch or enhance an existing installation, their friendly experts will be delighted to hear from you. Find out more at aquascapesupplies.com.au