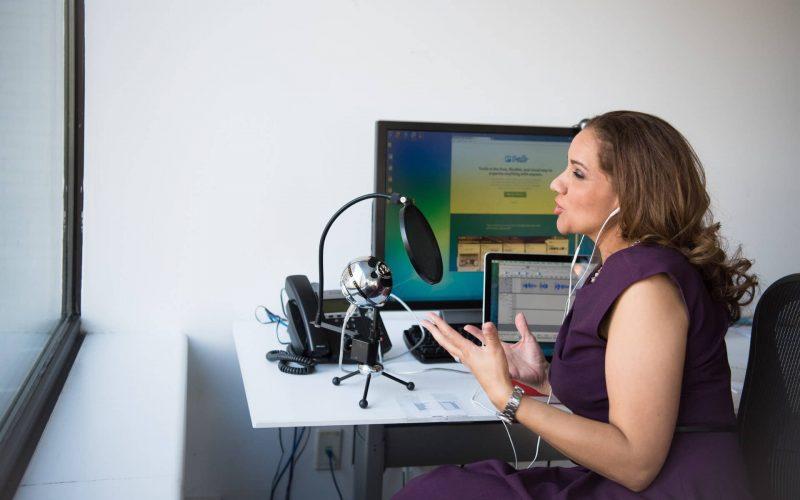 October 29, 2021
---
Podcasts in 2021 are no more about creative people entertaining and informing the audience about several things. It has become a content marketing strategy that helps in driving a high level of traffic to the website and also builds a formidable audience base of the program.
Sadly, many businessmen and businesswomen fail to understand this concept. Thus, here we will discuss why podcasts hold a grand position in the future of marketing levels. Below you will see a breakdown of things that makes podcasts important.
Podcasts have low competition
The content marketplace is highly aggressive. Now, what digital marketers search for are content types or topics that banks in heavy engagement with lower competition. And that is when they end up with podcast-based content.
Statistically speaking, Facebook business pages has 80 million users, and only 700,000 is the number of podcasts airing. This six-digit number further lessens to a heavy extent when you specifically search a topic. Things get easier when the number is less for the topics you work on, as very few would be podcasting on that topic.
Podcasts don't involve the presence of heavy economy
Podcasts are effectively inexpensive to produce compared to traditional setups in radio, where you needed to buy costly equipment to record audio. As podcasts are cost-effective, in 2021, it has emerged as a notable choice.
Now in the current time frame, all you need is a microphone, a computer, and some software to produce a podcast. Even if you lack financing, then you can use your smartphone's microphone for recording. After assembling the required elements, you should start thinking of some creative things to speak out.
However, keep in mind that your podcast hosting platform can distribute content on Apple Podcasts, Spotify, Stitcher, and more, as these are some necessary podcasting platforms to gain higher engagement to your website and content.
Audio content is ideal for multitasking
In this hectic busy world, none has much time to concentrate on one thing particularly. That is why podcasts are the perfect answer. While viewing videos and reading blog posts, your content needs undivided attention from the audience. But people can listen to the podcast while doing other works.
Smartphones have emerged as a substantial tool for podcast consumption. Thus, podcast producers need to do proper podcast editing and develop mobile-friendly content. 80% of podcasts listeners tune into podcasts while commuting, and 69% of people listen to podcasts while doing other works at home.
The sheer freedom that it delivers to every person is what makes podcasts a great tool for penetrating the human psyche. So, keeping podcasts in your arsenal will be worthful.
Increased brand affinity and loyalty
The audiences of podcasts are mostly loyal; it is because podcasters talk in a friendly manner, and in this process, they end up gaining listeners who are loyal to them. As through podcasts, listeners generate a relationship and bond with hosts, and they eagerly wait for the next episode.
Building a strong and loyal listener base will make it hard for your competitors to lure your target listeners to their podcasts. Now, this being a part of content marketing has let podcast listeners connect with a brand on social media. So, after the end of your podcast, your prospects will visit your social media pages, channels, or your website to keep the conversation. Your fans will share your podcasts on a social media platform that will generate more listenership.
Having a loyal fanbase will also increase new listeners, downloads, more episode completion rates, and minutes spent by listening. Brands like Netflix have been successful in capturing the attention of their target base.
Transcribing podcasts
Audio contents can't be crawled by search engines like Google because they have less amount of text to crawl. So, here you can transcribe the audio of your podcast, which will help you generate more text content for your website.
Consider if 4-5 questions are answered in your podcast, then you can specifically pick those questions and answers to create a separate blog post. Thus, this will develop fresh new content with a little tweaking from simple 15 min podcasts.
It also gives scope to your SEO by highlighting the target keywords found in the transcription, therefore forming a perfect content strategy.
Podcasts increase content creation opportunities
You can attract and allure a huge audience by making a blend of written and video content in the podcasts. This will drive a larger audience to your website. Podcasts, in many cases, act as a base for the creation of new content. From a specific podcast, you get the idea of adding more points to your answer so that you can create a news video or blog.
You can also find content for your next podcast from a blog post or videos of other creators. This will give you the scope to make an in-depth conversation on the topic in your podcasts. You can use them as guests for your podcasts so that they get an equal amount of credit for their content.
Content publishing consistency
Even if the blog posts or other contents are scheduled, there are still probabilities that your audience will forget to read. However, things will be similar to your podcasts too. So, to take care of that, you need to fix a certain day of the week for airing the episode. This will let the listeners get accustomed to the schedule of the podcasts, making them anticipate the next release.
Thus, fixing a particular date will not only help in keeping a buzz about the show but also keep a pertaining image of the business name in the psyche of the listeners. All of this not only is a great content marketing strategy but also increases brand awareness.
Conclusion
Podcasts can bring forward innumerable advantages to the posting strategy of any business. If you have ever come up with the thought of promoting your content through other ways, then podcasts will be the right option.
Don't wait much thinking, as others might come up with similar contents like yours. So, make podcasting a part of your content marketing strategy today.
Author Bio:
Ross Plotkin is a founder of Barevalue – A podcast editing company that offers podcast editing services and show notes writing services. he usually writes articles on the topic of podcasting such as tips, guides, and information that can be helpful for beginners and advanced podcasters.