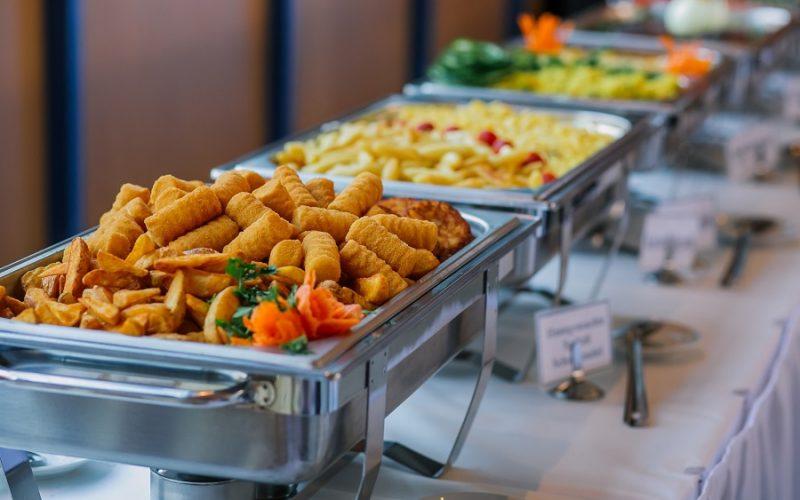 July 8, 2021
---
It is important that you provide your guests with the best possible dining experience at your wedding reception. This is a day that you want all of your friends and family to celebrate, and you need to organize your reception with the best catering services. However, determining how to feed a room full of hungry visitors might not be as easy as you think. Should you go for a conventional sit-down dinner or will buffet catering be a better fit for your wedding reception?
A competent wedding reception caterer will assist you with this decision, but you should be aware that both setups have advantages.
Benefits of Sit Down
A sit-down meal will bring a more elegant ambiance to your reception party if you want it to represent a more formal atmosphere.
A sit-down lunch, on the other hand, eliminates the need for visitors to work for their food and reduces the risk of making a mess.This is particularly beneficial for elderly guests and families with small children, and they can sit together to have their meals.
It's easier to manage the event's flow and there's no chance of guests going to the buffet during a toast or dance. You can organize your dinner or launch within a stipulated timeframe.
Since meals are precisely matched to the final guest head count, so you cannot face the risk of running out of food.
Benefits of Buffet
Buffet catering, on the other hand, can mean a more relaxed and informal atmosphere, making guests feel more at ease. If you have more than 100 guests in your list then buffet is the best option because you can serve food for a large group of people at a time.
Buffets are typically less costly than ordering individual plates because you won't need wait staff, and buffet dishes are often less expensive.
Guests have the option of selecting what they want to eat. If they have any dietary restriction then they can choose their favorite dishes as per their needs.
How Would You Choose The Best Wedding Reception Caterers?
Your wedding guests will be most excited about the food at your reception (aside from celebrating your union, of course)! It's your chance to relax and enjoy your special day, so choosing the right wedding reception caterer is crucial if you want a reception to remember.
Be aware of your financial situation.
Catering is also the most expensive part of a wedding budget (45-50 percent of most wedding budgets go towards catering). Wedding reception caterers differ in terms of food and style, so choose a reliable caterer for your reception. Talk about your budget,  and choose the style of your catering according to your needs, such as buffet, food stations, sit-down dinner, or cocktail reception.
Participate in a taste test.
You should always arrange a "tasting" with a wedding reception caterer to sample their culinary expertise and observe the food presentation.
Your wedding reception caterer will quote rates based on a minimum or guaranteed number of guests if you supply them with that information.  Note that if the number of guests is less than 100, there may be additional charges.