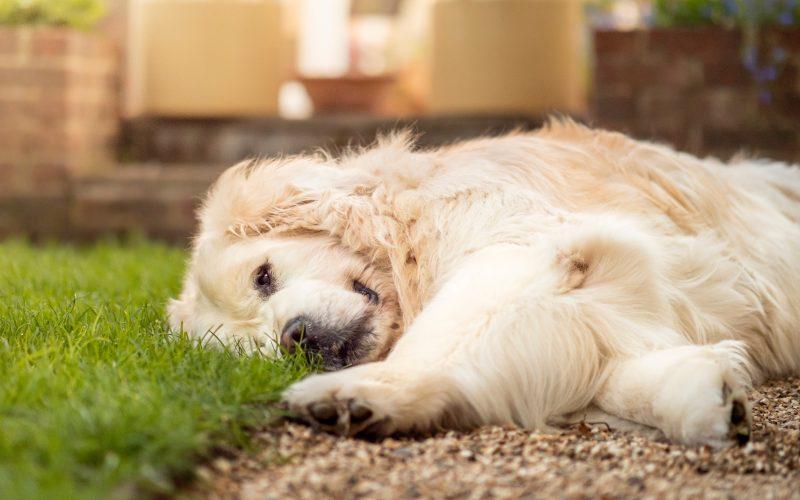 February 14, 2022
---
Pets are considered members of the family. Being a pet owner is one of life's greatest pleasures. Many pet owners, however, are aware that dogs and the lawn are not a marriage made in heaven. You'll have dead grass, yellow and brown stains, and holes if you let your pet roam in the yard. If you use pesticides on your lawn, there are additional safety concerns for your dogs. It's a proven fact that a well-kept lawn and pets don't mix.
As pet owners, we want to make sure they have all they need when they come into our homes. This includes easy-to-clean and maintain flooring for their living and playing areas, especially if they're indoor-outdoor dogs. Artificial grass for pets is an excellent alternative since it's simple to maintain, pest-resistant, and adaptable to a number of settings. Artificial grass improves the appearance of your yard and is completely safe for dogs. Let's look at some of the most well-known advantages of synthetic turf.
No More Dirt and Mud
When dogs have spent the entire day outside playing catch, digging holes, or just running about, mud can be difficult to clean up. You must clean up a muddy mess on the carpet, couch, or any other surface that your dog's paws have touched. Turf is one of the most inventive methods to keep mud out of your yard and indoors since it eliminates the need for muck anyplace inside or out.
Unlike natural lawns, which are formed of soil and can ultimately turn to dust if left unattended for weeks at a time, artificial grass has been created to not produce dirt when stepped on. There are no more muddy messes with a stress-free surface for your dogs to play on. It means your pets may run about freely on an even surface without the fear of slipping and falling as they would on natural turf outside or synthetic flooring indoors.
Maintenance Is Hassle-Free
Artificial turf is easier to keep clean and maintain than real grass. Turf is a low-maintenance design with anti-microbial protection, which helps to eliminate odor, mold, and mildew concerns that are common with natural grass. Plus, because it doesn't require fertilization, there's less fertilizer runoff and less time spent weeding and grooming the grass. Artificial turf is often low-maintenance, allowing pet owners to concentrate on more essential things such as playing with their pets rather than worrying about the lawn.
A Safe and Healthy Space for Playtime
Real lawns provide an ideal breeding habitat for a wide range of insects, ticks, ants, fleas, and other pests. These pests may be carried into your home by your dog and cause a slew of issues for both your pet and your family. Pests and bugs, on the other hand, aren't fond of synthetic turf. They won't be coming to infest your yard, so you won't have to deal with any more unpleasant visitors. Furthermore, pesticides are not required, which is safer for your dogs and other pets.
Improved Drainage
The most important aspect of choosing an artificial turf for dogs is proper drainage. The base separates artificial grass backing from the ground and this material, usually a crushed stone, has tunnels built into this area to help drain water out of your yard. This is how professional landscapers assure the longevity of your turf installation – proper foundation and drainage.
A Green Yard All Throughout the Year
Many individuals simply give up on having their dream yard once they bring their dogs home. After all, dogs are known for digging up holes, pulling off grass blades, creating lawn burn, and otherwise destroying what was once a lush green sanctuary. If you choose artificial grass, you will never have to give up your goal. Your dog's persistent paws will never be able to destroy the turf, no matter how hard or how often they play in it. Your dog won't be able to pull out the fibers or dig holes in the surface because the backing is so resistant. Enjoy ten to twenty-five years of having a lush, green backyard to be proud of!
Final Takeaway
Do you want to make a yard that both you and your dog will enjoy? Artificial grass is a low-maintenance landscaping option with a variety of advantages for pet owners. It's simple to care for and eliminates some of the most frequent issues that pet owners have with natural lawn. The aforementioned points will help you decide whether you need an artificial lawn for your pet or not. For more information, contact us.