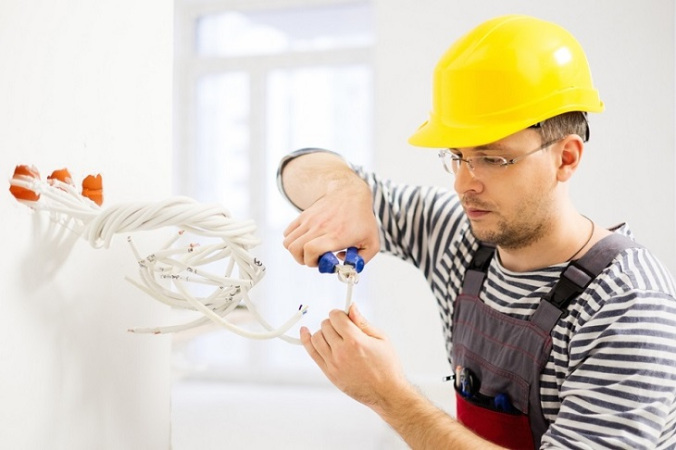 February 16, 2021
---
Electricity is the ambrosia of the 21st-century economy. Almost all industries draw their lifeblood from the power generation sector that harnesses natural resources and fuels from Earth's bowels. The housing and real estate industry would have been nonexistent without the vast market of electrical contractors who make sure that we, the consumers, get electricity within the very boundaries of our homes.
It can be challenging for a real estate firm to choose a reliable electrical contractor for their housing projects. Since the electrical work will be forming the core structure of the seamless functioning of the electrical appliances, the work has to be done with precision and care. Moreover, one certainly doesn't want to see messy wires spreading across the house, hence hiring a professional electrical contractor for this task. Here we are, with five tips and tricks for hiring an experienced professional in this field for your projects and undertakings.
Tips to follow for Choosing Electrical Contractor:
1. Ask for License and Insurance Proofs
The lower-cost option is always more lucrative, but that doesn't guarantee quality. To ensure sustainability, you have to look for an electrical contractor with a proper license and certification. A licensed electrician should always have workers compensation and liability insurance for any possible mishap or accident that might happen while working on your project.
Making your choices only based on cost is always a dangerous gamble. It opens you up to the possibility of unfortunate trials and tribulations in the future.
Hence, it is necessary to ask any electrical contractor you approach for their insurance certification details.
2. Ask about their previous experience and look for Financial Stability
As a customer, it is essential to ask the contractor or the contracting firm about their past experiences. It would be highly undesirable if you were to find yourself in the position of the first big undertaking of a small startup company.
We would recommend looking for an electrical contractor or a contracting firm with proper financial stability and sufficient previous experience in the same vein undertakings to ensure financial security.
3. Two common and pertinent red flags in this respect are:
The firm or the contractor himself requires large down payments from you.
The firm wants the customer to take the responsibility of procurement for electrical equipment.
4. Check the training of the lead electricians who would work on your project
Untrained electricians and electrical contractors working on your project present a potential hazard for the future. This is why we recommend looking into the lead electricians' industrial training, who would be working under the contractor form.
Usually, most electricians certified by the state would have to be licensed journeymen or master electricians. While master electricians are legally enabled to design electrical systems from scratch, journeyman electricians are certified to work on existing electrical systems, optimizing them for better and more efficient functioning.
5. Make sure you are aware of the quality of equipment procured
It is essential to maintain a proper balance between the equipment's cost and quality that the electrical contractor is procuring for the project. You must make sure that the quality of the products is maintained. This is because installing low quality or faulty products in your housing project may lead to future hazards, which will cause significant economic setbacks. Fire-resistant wiring, good quality circuit breakers, and installing reliable generator circuits are some absolute requisites for an electrical contractor or a contracting firm.
6. Always read up detailed Reviews of previous Consumers
One of the aspects that you should not miss while looking for an electrical contractor is to look for their reviews and ratings. Don't rely on their website, rather look for general reviews on social media platforms, and Google reviews to get honest feedback. Ensure that the contractor or contracting firm you hire has good testimonials and positive customer reviews from previous projects.
An experienced electrical contractor is always an indispensable requirement for any real estate project. We can ensure that following these five simple steps will make your experience of hiring an excellent electrical contractor smooth and hassle-free.