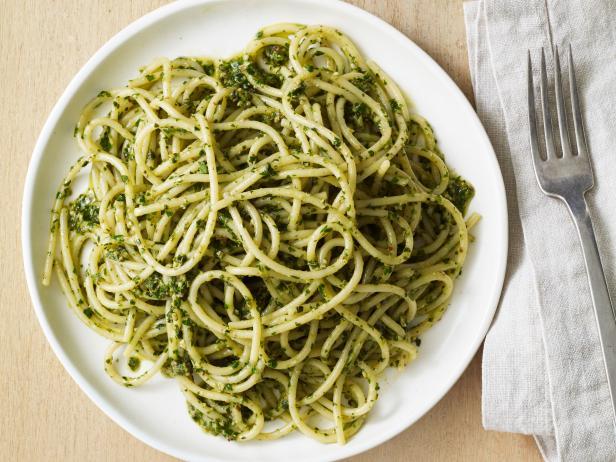 April 20, 2021
---
Have you or someone in your family been diagnosed with gluten intolerance, gluten sensitivity or coeliac disease? Without much knowledge, adjusting to a gluten-free diet can be a flavourless journey - but it doesn't have to be! Having to cut out gluten doesn't mean you have to cut out the flavour! If you are looking for delicious ways to still enjoy your favourite Italian dishes, then here are the most popular
gluten-free pasta
recipes you can cook tonight!
Gluten-free eggplant pasta with basil pesto
With the sweet and spicy flavour of tomato relish, charred eggplant and walnut basil pesto, this dish is packed with flavour in every bite. The best thing is that it's gluten-free, meaning everyone in the family can enjoy this incredibly delicious dish!
Ingredients:
Organic extra virgin olive oil x 3 tablespoons + ⅓ cup
Sea salt x 1 teaspoon
Gluten-free lasagne sheets x 1 packet
All-natural tomato relish x 3 tablespoons
Eggplant (cut into 0.5 cm rounds) x ½
Lemon juice (fresh) x ¼ cup
Fresh basil leaves (whole or chopped) x 1 cup
Crushed garlic x 1 or 2 tablespoons
Walnuts (roughly chopped) x ¼ cup
Method:
Start by preheating your grill.
Line a tray with alfoil and place down the eggplant slices. Brush over with the olive oil and then finish with the sea salt.
Place them under the grill and cook for around 2 minutes each side, making sure they don't burn. Each side should be soft and charred.
Keep flipping them until all the pieces have become tender. Take out of the grill and place aside.
Fill a large pot with salted water, cover with a lid and place over high heat.
Once the water is boiling, cook the gluten-free pasta sheets by reading the instructions on the packet.
As it is boiling, start making the walnut basil pesto. Add the walnuts, crushed garlic, 3 tablespoons of olive oil, basil leaves, lemon juice and salt into a food processor.
Pulse until the ingredients have combined together.
Drain the pasta and then return it to the pot.
Add in the eggplant slices and the tomato relish. Give it all a good toss until mixed together.
Serve onto a plate and finish by drizzling over the walnut basil pesto.
Gluten-free pumpkin, bacon and sage pasta
If you are looking for a delicious gluten-free dish that can be quickly whipped up in under an hour, then this will be your new favourite recipe! Crispy bacon, soft pumpkin and caramelised balsamic onions - who could not love this dish!
Ingredients:
Organic balsamic vinegar x 1 tablespoon
Sage leaves (fresh) x 12
Brown sugar x 1 teaspoon
Water x 2 teaspoons
Pumpkin x ½
Organic extra virgin olive oil x 2 tablespoons
Onion x 1
Thick cut bacon x 6 rashers
Gluten-free penne pasta x 1 packet
Method:
Peel and dice the onions.
Chop up the bacon into small pieces.
Cut the skin off the pumpkin and then cut into small cubes.
Grab a large pot, fill it with water, sprinkle in some salt and cover with a lid. Place it over a high heat until it starts to boil.
Add in the gluten-free pasta and cook it according to the direction on the back of the packaging.
While it is cooking, grab a large frying pan and add in the olive oil. Place over a medium to high heat.
Once the pan has heated enough, add in the sage and fry until crispy (should take around 30 seconds). Then take each leaf out and transfer onto a paper towel to drain them of any excess oil.
Now reduce the heat to medium and add in the diced onion. Cook for 2 minutes while stirring until the onion has become soft.
Add in the bacon pieces and fry for about 4 minutes until it is crispy.
Transfer onto another paper towel and drain them of any excess olive oil.
Add in the balsamic vinegar, brown sugar and water. Mix the ingredients together and let it simmer for another minute.
Add in the pumpkin pieces with the balsamic onion and cook between 5 to 7 minutes until it becomes soft. If it starts looking a little dry, just add in a little bit of the pasta water.
Keep about ½ a cup of the cooking water and then drain the pasta.
Return the pasta to the pot and add in the reserved cooking water while stirring the pasta. Make sure every noodle is coated and absorbs the water.
When the pasta is no longer sticky, add it into the frying pan.
Add in the bacon pieces and fried sage leaves. Toss it all together so everything becomes combined.
Serve the gluten-free pasta mixture onto a plate or into a bowl.
Garnish with some sea salt and some parmesan cheese or whichever cheese you prefer!