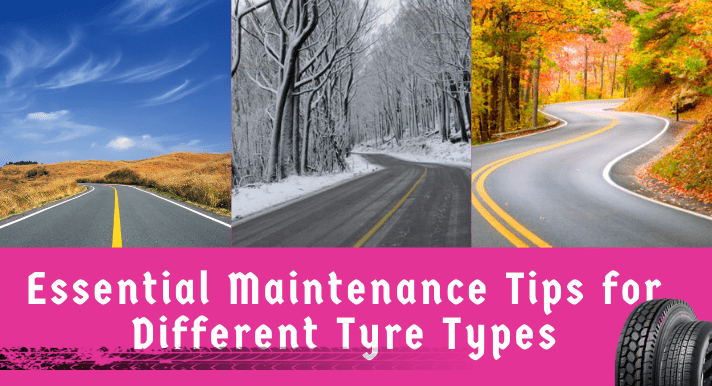 April 19, 2021
---
It is very important to take good care of your car tyres and maintain them in top condition always so that you and your family or friends remain safe on the road. Well, different types of car tyres need a different kind of care and maintenance. General maintenance procedures may be in place for all of them but some of the tyre types need special maintenance to keep them in top condition. In this blog, you'll find essential maintenance tips for different types of the tyre. You can scroll down to find your desired tyre type and get the essential tyre maintenance tips:

1. Run-Flat Tyres
Run-flat tyres are intended to keep your car on the road even after being punctured. Compared to regular tyres, run-flat tyres have thicker, strengthened sidewalls. Thus, they can endure for 150 kilometres drive even after a puncture (off course with modest speed). However, once a run-flat tyre gets punctured, you need to replace it, as repairing it won't work. Nonetheless, before puncture, you can offer them the same maintenance that is given to all-season tyres, which you'll find below.
2. All-Season Tyres
All season tyres are the perfect tyre type that will run on all types of weather conditions, be it summer, winter or rain. When you invest in all-season tyres, you won't have to spend extra on getting weather-specific tyres when the climate changes, as they can ride on dry as well as wet roads comfortably. The right maintenance will always keep them in top shape and ready for the drive. Conversely, poor maintenance can affect the dependability of tyres. Here are essential tips to keep your all-season tyres in top condition all year round.
Regularly inspect your car's tyre pressure and make sure it matches the recommended air pressures.
At regular intervals or often inspect your vehicle tyres to detect any issues quickly.
If you often drive in a hilly region, then you should leave all complex issues to expert technicians. For instance, tyres may need rotation or wheel alignment may be needed. Never try to work on these types of issues yourself.
Refrain from excessive spin. Suppose you're stuck in mud or sand, then refrain from spinning your vehicle tyres at the place. Rather, use a gentle back and forth movement to get your car out of the ditch.
3. High-Performance Tyres
Maintaining high-performance tyres is a pricey affair. If you happen to drive one of the performance cars like the Porsche, Lamborghini etc., then here are some essential tips for you.
High-performance tyres are designed in such a way that they wear out faster than other types of tyres, as they're made for high-speed driving. So you need to check the tread depth at least once every month.
High-performance tyres have more rolling resistance than most of the tyres, which make them wear out faster than the others. Never try to repair them once they are punctured as they would not maintain their grip at high speeds. Replacement is recommended at the earliest.
Oiling the brakes frequently is advisable to enhance your car tyre's grip. It makes your vehicle tyres much more flexible, maintaining their traction on the road.
4. Summer Tyres
Summer tyres are intended for temperatures that are greater than 7 degrees. They are suitable for warmer temperatures because they are made using a soft compound. If you use them in winter, then it could make things tougher for you. To keep them functioning efficiently delivering the top performance, make sure you stick to the following:
Drive them only in the summer months. It is not advisable to drive on this type of tyres during the spring, as the temperatures could dip below 7 degrees.
Often check them visually. Inspect for wear, tear, deflation and punctures.
Inspect the tread depth to make sure it fulfils the minimum required standard to drive on Australian roads.
As soon as you notice any complications, take them for repairs without delay.
5. Winter Tyres
Winter tyres are designed to be used during the winter season; they are made to withstand very low temperatures. Maintenance tips applicable to most winter tyres are mentioned below:
Make sure you keep your car tyres clean; it is essential due to the vulnerability of winter tyres. Besides, it is easier to detect problems surfacing with your vehicle tyres when they are maintained clean. All you need to do is get rid of the mud, dirt and salt by scrubbing them every few weeks.
If statistics are to be believed, then accidents are more probable to occur during winter than any other season. Thus, if possible, inspect your vehicle tyre's wear and tear and pressure problems after every drive. In case you detect any issues, ensure you correct them at the earliest instant.
If you follow the essential tyre maintenance and care tips described here, then surely your car tyres will outlast up to the manufacturer recommended tyre life.
Final Words
Well, maintaining tyres are vital to make sure your vehicle remains in top condition and safe for its passengers. The task is not that simple and you need to invest some of your valuable time to inspect and maintain your car tyres in top condition. With highly specialised tyres such as winter tyres or high-performance tyres, you need to put some extra efforts to maintain them in top shape.
Do you want to find out if your old or exhausted car tyres need replacement? Contact a reputed and experienced tyre shop in Parramatta, Sydney.
If you can't drive your car to them, they can also help you to buy tyres online at the best prices, which you can get fitted by your local mechanic at your place and at your convenient time.