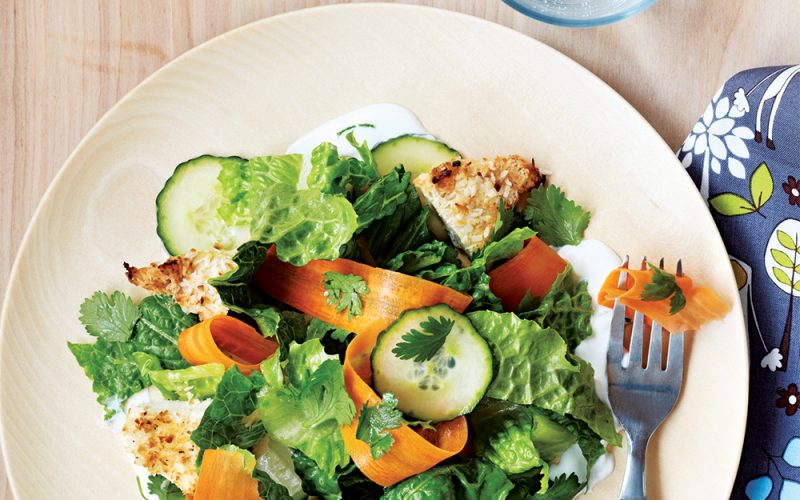 November 20, 2019
---
Well, it is observed that parents rarely serve salads to kids. Sometimes parents believe that children will end up pushing it away. But, if salads are prepared the way they will like it and delicious in taste, then they will love to eat it.
Here are some of the recipes of salads that makes your kids licking the plate clean, quite exactly.
Mixture of Broccoli and Cauliflower salad
Two of the most nutritious vegetables are mixed to make a finger-licking salad.
Ingredients: Chopped Broccoli, Chopped Cauliflower, Nuts, Raisins, Black Pepper, Buttermilk, Chopped Garlic, Sugar, Lemon juice, Salt, Vinegar, Mayonnaise
Method: Run all the chopped veggies in a process until they get converted to small pieces. Then in a bowl, mix Vinegar, Mayonnaise, Garlic, Sugar and lemon juice. Add some Butter milk to it and mix well again. Sprinkle some salt and pepper as well. Have a base of all the veggies and pour the mixture on the veggies and garnish with some raisins and nuts.
This salad is a Sodium, fats and Calorie rich.
Spinach Salad to be a Popeye
After tasting this salad, the kids will ask themselves why they hated spinach earlier.
Ingredients: Chopped Spinach, Lemon juice, Garlic powder, Olive oil, Chopped Onions, Mozzarella cheese, Cherry tomatoes, Coriander leaves
Method: Cut all the vegetables into small pieces and make a base from it in a bowl. Top it up with lemon juice, olive oil, garlic powder and mozzarella cheese. Garnish it with some coriander leaves.
This salad is very rich in Proteins, Carbs, fats and Calories.
Nutri-wheel Salad
All the vegetables are served in a tempting design to attract the kids.
Ingredients: Lettuce, Sliced cucumber, Sliced Carrots, Cherry tomatoes, Sliced celery, Black pepper
Method: Create a base flower with lettuce leaves. Arrange the chopped veggies one by one in a way that it will look like a flower. You can place your favorite dip in the center to accompany the taste and looks.
Apple and Roasted Beetroot Salad
If raw won't be able to do it, a small roast can change the game completely.
Ingredients: Apples, Beetroots, Hazelnuts, Coriander, Black pepper, Vinegar, Honey, Salt, Olive oil
Method: Bake hazelnuts for 10 min at 180 degrees in oven. Increase the temperature to 220 degrees and arrange beetroots in a tray and sprinkle olive oil on them. Cover with foil and bake for an hour until tender. Trim the end parts of beetroots and sprinkle some vinegar on it. Put apple pieces and beetroot pieces in a bowl and add a mixture of olive oil, vinegar, honey and salt on it.
You can try different preparations by taking different veggies and serve a nutri-cargo plate to your kid.