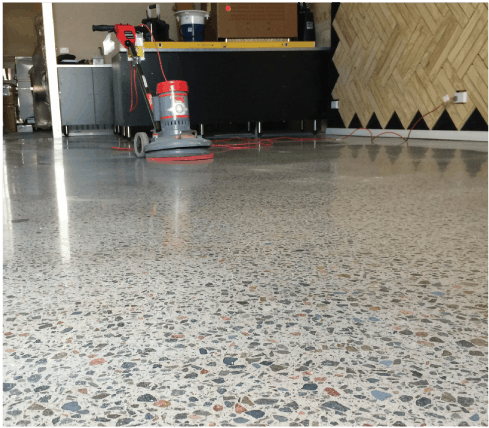 December 15, 2021
---
For some sectors, concrete floor polishing has a number of advantages. An industrial building's floor sees a lot of action. Concrete floor polishing has several advantages, regardless of whether it is due to foot activity, automobile traffic, or a combination of the two. For the time being, though, let's focus on the most important advantages of polished concrete floors in commercial and industrial settings rather than on the advantages of epoxy coatings.
Ease of Maintenance
Maintaining the sheen and beauty of an epoxy finish requires periodic sanding and recoating. Your polished floor will last for years with regular cleaning and occasional burnishing. Using an epoxy coating on a floor that will be scraped or subjected to a lot of wear and tear could cause it to fade over time. When compared to traditional concrete, polished concrete is more resistant to scratching.
Refreshed Look
Increasingly, firms are looking to improve their image. Employee productivity can be boosted by providing a pleasant work environment. Today, concrete polishing comes in a wide range of hues and nuances, despite the fact that many people believe concrete only comes in a conventional grey tone. Color-coordinated epoxy coatings can be used to identify specific regions in a corporate or industrial context, allowing for a more efficient workflow.
No More Efflorescence or Dusting
There are several types of damage and chemical reactions that can weaken untreated concrete. Because of the porous nature of concrete, salt migration (efflorescence) occurs continuously. In turn, this causes epoxies and other surface coatings to be damaged by the buildup of dust, which can be remedied at the source by polishing.
Low Price
A low-cost option for firms that do not want to compromise on quality is offered by both epoxy floor coatings and polished concrete. Compared to other flooring solutions, these floors are more cost-effective in the long run and don't need to be updated frequently.
Improved Reflectivity and Illumination
Increased reflectivity improves the effectiveness of your safety painting. Additionally, it has long-term advantages in terms of energy conservation. Your facility will appear cleaner and newer if it has better ambient lighting, which makes it more inviting to visitors and employees alike.
Improved Sanitation
In the industrial world, where spills and accidents are prevalent, concrete floors must be polished or coated with epoxy. A porous medium such as concrete makes it vulnerable to liquids such as oils, chemicals and other lubricants. As a result of using Liquid Floors, you may protect your floor from any chemicals or substances it may come into touch with by applying a solution. As a result, your office will be more hygienic, secure, and conducive to work.
Slip Resistance Increases
In the same way that wet concrete may be slippery, so can polished concrete. However, compared to an untreated floor, it will have a higher level of traction. For grip-sensitive situations, such as a parking deck, a coating utilising glass beads or sand can increase these qualities.