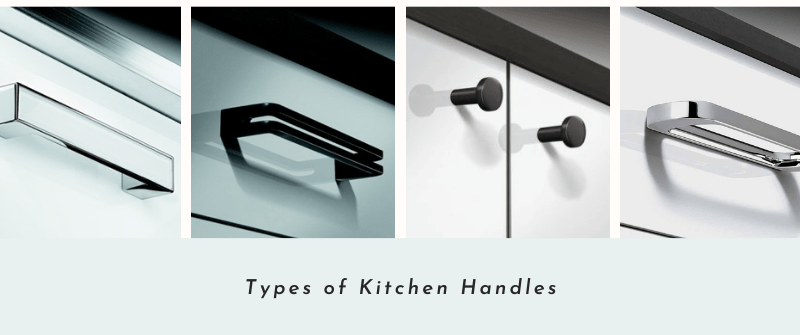 May 18, 2021
---
When you know about the different types of handles available in the market for your kitchen cabinetry, it becomes easy to pick the ones that perfectly suits your use requirements and aesthetics. In this blog, you'll get to know the different types of kitchen cabinet handles, materials and finishes. It will help you to choose the best cabinet handles, door handles, cupboard handles and drawer handles for your kitchen.
Types of Kitchen Cabinet Handles
Kitchen door handles come in varied designs, shapes, sizes and finishes. Before selecting the door handles, you need to have in mind the style you want to achieve for your dream kitchen. Let's explore the range of kitchen door handles.
Cup Handles
Cup handles are robust and made for heavy cupboards and drawers. Whether you go for antique brass finish or brushed gold finish, they eject ancient feeling, which can be sentimental and graceful at the same time. Cup handles are perfect to achieve a vintage look.
Finger Pull Handles
When you install finger pull handles to your drawers or cabinets, you can effortlessly open them by reaching with your fingers. Finger pull handles offer a streamlined look that will augment the look of your cabinetry and the whole kitchen interior. Finger pull handles are a superb choice for kitchen cabinetry, as they provide the utmost comfort for handy use.
Bow Handles
Bow handles grip comes in varied designs, which include a porcelain-like finish or a wave-like shape. They are also pull-out handles and fit well in a traditional kitchen and give out a somewhat vintage feel. If you want to use bow handles, then you need to cautiously choose your cabinet doors.

Bar Handles
Bar handles have a simple design, it is a long rectangular bar that you can easily hold and pull. They are classic pull-out handles, ideal for traditional and modern kitchens. Homeowners having more fancy preferences might find it way too simple, but if you want a minimalist, practical handle, then bar handles are among the top choices.
Edge Profile Handles
These handles are grooved bars, connected to the edge of drawers, where you put your fingers in the groove to use it. As they slightly protrude, it makes it look as if the cabinets are handleless, ideal for contemporary and modern styles.
Cabinet Knobs
Cabinet knobs come in a small circular style normally fitted to the opening corner of a cabinet door. Besides, cabinet knobs are available in custom designs like flowers and animal figures. They can match well with adorned cabinet doors and seamlessly intermingle with the kitchen's overall look. On the flip side, knobs don't go well with drawers because of the restricted area to hold. With constant use, they are vulnerable to get loose, so you need to inspect them regularly and make sure they're connected appropriately.
Handleless
Handleless drawers and cabinets are installed with a push-to-open mechanism that facilitates you to access and close cabinets with the utmost convenience. Handleless cabinetry and cupboards are perfect for homeowners who want a streamlined and sleek modern or contemporary kitchen.
T-Bar Handles
T-bar handles are identical to bar handles, the only difference being they come in a tubular shape. T-bar handles are an excellent choice for flat, single-coloured cabinet doors due to their unique style, giving a streamlined look to the kitchen space. They are the perfect choice for contemporary and modern kitchens.
Handles: Materials & Finishes
Besides styles, you have to take into account the material and finish of the handles. The material will determine how long your handles will last and the finish is associated with the overall look and feel of your kitchen.
Stainless Steel Handles
Stainless steel is a very durable material and requires minimal maintenance; besides, it is resistant to rust, scratches and discolouration. They can work in any kitchen; however, they are ideal for contemporary and transitional style kitchens.
Copper Handles
Copper handles provide a warm, metallic accent to the kitchen interior, and they are ideal for plain and dark-coloured cabinet doors. Copper handles are beautiful and when you choose a good colour palette and door style, it can bestow your kitchen with a streamlined yet industrial look.
Chrome Handles
Chrome handles contain a metal core treated with a thin chromium veneer. Traditional chrome has a reflective and shiny surface, and they provide a traditional and classical look in a kitchen. To achieve a matt finish, brushed and satin variants can be used. Chrome handles sleek exterior makes them vulnerable to scratches and fingerprints, so you have to clean them regularly.
Black Handles
Try black handles if you're going for a monochrome colour palette. Gloss and matt finish options you get for black handles. Glossy black handles have a smooth and more reflective sheen when compared to matt black handles.
Nickel Handles
The metal is plated with nickel and the advantage of nickel handles is that they can look stunning in several types of finishes such as satin, high polish or antique. They are resistant to rust, but they can get dull and discolour over time. To slow down the process, manufacturers often coat them with lacquer. Nonetheless, cleaning them regularly may help keep their shine for longer.
Antique Finish
Antique finish handles provide an old, vintage look. Despite their rugged exterior, they radiate a special charm, which is the reason why many of the homeowners still love the antique look even today. Antique finish works well on some of the brass, nickel and black handles.
Brushed Finish
Brushed finish handles come with a dull, matte lustre with very fine lines. It provides a crisp, metallic look that works very well in contemporary and modern kitchens.
The Bottom Line
The above-mentioned are not exhaustive but only some of the commonly used popular types of kitchen handle styles, materials and finishes. When you have a thorough understanding of these, then it can assist you to decide when the time comes for you to select your kitchen cabinet handles. Finally, no matter what style, material or finish you choose, if you don't buy a quality product then it would not last. Therefore, purchase kitchen cabinet handles only from a reputed supplier to make sure that your kitchen handles will serve you for a long time.