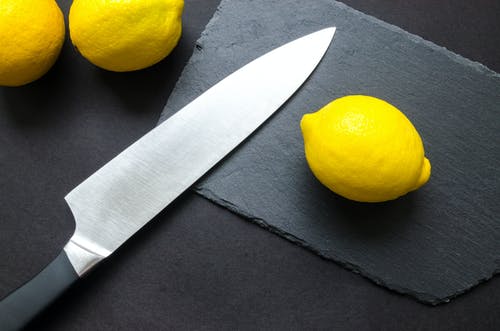 December 6, 2021
---
Kitchen knives have different blade-like Wavy shapes, Straight shapes, and Granton shapes. Based on their shapes, they are used for other works.

Most people have knives in their kitchen for various purposes, but are you familiar with how to use each knife properly? 
One of the most misused knives in anyone's kitchen is the paring knife. Paring knives are much shorter than most other knives in your kitchen. 
Most paring knife blades are only about 7 1/2 to 10 cm long or 3 to 4 inches.
Paring knives can be used for various jobs, such as peeling fruit, cutting onions, slicing vegetables, or even chopping up herbs. Some people even use their paring knives to core their apples. 
As you can see, a paring knife is one of the most versatile and often used knives in anyone's kitchen.
The kitchen knife types and their uses
Paring Knives:
the size of this knife is usually between 3 inches to 4 inches, and this small knife is multipurpose. Many types of paring knives are available in the market.
Bird's Beak Knife:

if you want to know about kitchen knives and their uses, you must understand that they are mainly used for peeling fruits like an apple and orange. Apart from this, Bird's Beak knife is also used for garnishing food and intricate work, including carving and fluting. This is mainly used for small cutting or peeling purposes, and it is helpful to crush and grind the soft materials.
Boning Knives:
this is a rugged knife mainly used for cutting chicken or fish and dressing meat. This knife has different types of blades, and these blades are well efficient in cutting the hard bones of beef or poultry.
Kitchen knives and their uses are not to be overlooked as unimportant. The narrow boning knife is mainly used for cutting the bones and cartilages. The wide boning knife is the best for cutting chicken and fish, and if you want to dress the chicken or make the pieces according to your choice, you can use a curved boning knife.
Carving and slicing knives:
this knife is mainly used for slicing because it has the best long blades, which provide the best cutting facility. The size of this knife is nearly 8 inches to 14 inches. This is very useful to cut the roast beef size, and you can slice the meat as per your choice because it helps you make the best slicing pieces.
Bread Knives:
this knife also has a thick blade and a sharpened portion. Because of both the parts you can cut the bread smoothly, without crushing it. You can also use it as a fruit cutter knife because it has a solid and sharp edge. It will cut the fruit very nicely.
Santoku Knives:
this is a Japanese-style chef's knife. This knife is handy to cut or chop vegetables. This knife has a wide, sharp, and strong blade, and it is also helpful to scoop out slices of various foods. This is a multipurpose knife; you can also cut the vegetable and meat and crush the garlic. So you can use it as per your choice.
What are the primary uses of Knives?
Cutting vegetables.

Chopping and cutting meat and fish.

Crushing garlic, ginger, and tomato.

Removing the skin of the meat.

Slicing food ingredients like meat, fish, and chicken.

Cutting fruits.

Cutting bread without crushing it.

Applying butter on the surface of a loaf smoothly.

Battering ingredients to make a dish.
In total, kitchen
knives
and their uses are numerous. The first step in making any dish is to prepare the ingredients properly, and blades provide this accurate facility. It is suggested that different
types of knives
should be used in the kitchen.
Before you rush out and buy yourself a set of paring knives, there are a few things you should know first. Most paring blades are made of either stainless steel or forged steel. 
Do not buy paring knives that have plastic handles because these will break very easily. 
And honestly, you should look for a high-quality paring knife that will last you a while. One of the best companies that many people have had success with is Victorinox.