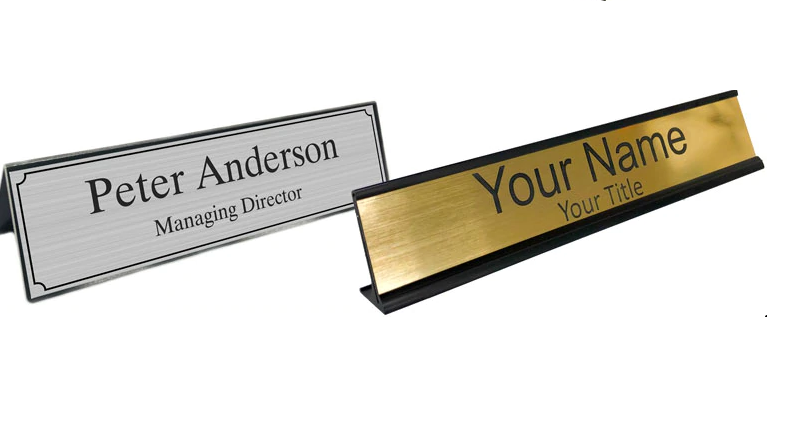 March 26, 2021
---
Find the correct nameplates if you'd like to improve the style and quality of your workplace. There are several varieties of nameplates available on the market. Mostly, they are used in offices and top management positions only. As a result, you must select the best one for your necessities. A custom office desk name plates is the product that requires your name and information about you. For a long time, nameplates seem to be a staple in workplaces. It shows a professional feel and markets your business in a greater range, and nameplates are very important. Here are some things you need to know about nameplates:
What is the purpose of a nameplate?
Nameplates are designed by cardboard or plastic in the past days, and they consist of a person's name on them. Due to modern technology and innovations, nowadays, the nameplates are efficient to use. When a person visits your office for the first time, he notices the nameplates. It gives identity to your office and any other place. Also, the nameplate conveys a lot of information about your name and work culture. The visitor will get the necessary information about you before meeting you. Usually, the nameplates are used from product identification to managing your organization assets.
How to design a nameplate?
The initial stage of designing custom office name plates is to define an application. You should choose the type of nameplate as per the surface, installation location and environment conditions. You have to select a substrate material, and there is a variety of metal and plastic substrate available such as brass, stainless steel, aluminium, anodized aluminium, polyester and so on. Each material has characteristics that are well suited for specific applications. Create a graphic design by using individual specification such as screen printing, digital printing and etching.
Choose the right nameplates
The purpose of nameplates is they are used in any place such as office, management, home. You have to choose desk name plates which have the best quality and specialized material. It is essential to know about the specific thing before you buy. When you go for buying a nameplate, be with proper guidance and knowledge. Look out for the necessary things to choose the right nameplate.
Inspect the material
Nameplates are available in a variety of materials. Be aware of what purpose and where you would be using the plates. If you want a nameplate for your office, choose the frame desk plates and aluminium desk plates used explicitly for official use. Several customers have chosen aluminium deck plates because they can be easily moulded into different shapes and have excellent durability, even in outdoor environments. It is also best to choose stainless steel plates which are incredibly dense and a gold standard in the food industry because of their resistance and antimicrobial qualities.
Size matters 
If you are using a name for commercial use, make sure you buy it according to your size. A specified size of custom office desk name plates will look very professional and extraordinary and makes your desk look attractive. So, design a nameplate based on your size and with useful information.
Maintenance
After choosing good desk name plates, maintain them properly to look incredible and attractive. Clean the nameplate regularly whenever it gets dust. Know the value of the nameplate and the durable capacity before you buy. Ask the salesperson about the tips to maintain your nameplates well and what things to be avoided.
Benefits of nameplates
Nameplates are an essential thing in the workplace. There are more benefits to a nameplate which improves your office.
Provides a feeling of value to staff or visitors
Nameplates can save time while navigating through the office
It offers a professional look to the office
The custom nameplates will be durable and last long
The nameplate can increase the team member retention
They provide more comfortable and convenient
Final thoughts
The things mentioned above have given in-depth information about the custom office desk nameplates. Nameplates are very important through which you can show your identity. Know the things and select the best nameplates in the market and even you can buy them online from an authorized website.
At BadgeStore, we make office desk name plates in Australia for a range of industries. Whether you're looking for desk name plates in Melbourne or desk name plates in Sydney, we offer fast turnaround times and rapid deliveries. We're able to add other details too, including the person's job title.