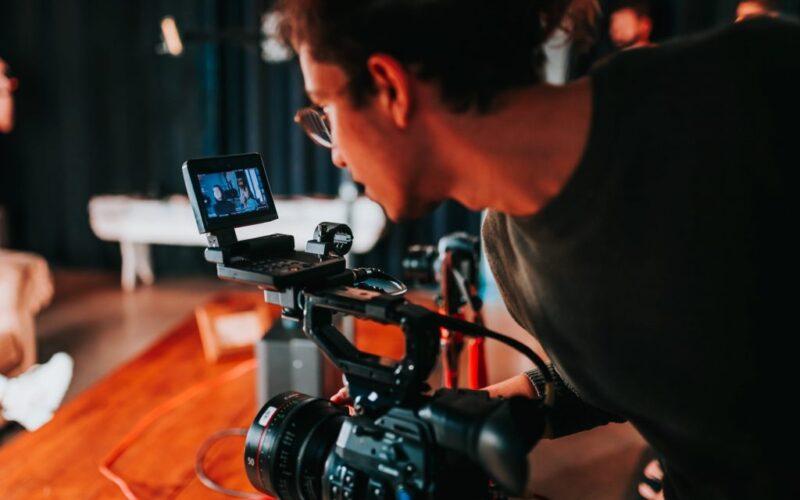 September 20, 2022
---
Videos has been discussed as the way to market in the future for a long time, but the future is already here. It is vital to have a content marketing strategy for businesses or any other purpose. They will take care of video marketing strategy to promote on any social media platforms, whatever business you have. You will fall behind if you don't use video in your marketing plan. No need to worry about how to get started. Even if you can't afford to hire a team in-house, you can still get the
training video production service
 you need from several highly skilled companies such as Dream Engine. In this article, we'll talk about how to make a video and what kinds of video production services you should look for when hiring a company to handle your video marketing.
INDEX
The Production Process The Preproduction Process Production Post-Production or Producing video content Common Types of Video Content So, ready to take on video content creation?
The Production Process
Video is a very effective way to tell your story and get people to feel, think, and act in a certain way. When done right, video can be one of the best ways to get people to buy, no matter your business or industry. Whether you do your video marketing or hire a video production company, there are three types of video production services that you will need to do yourself or make sure the company you hire does:
Preproduction
Production Proper
Post Production
The Preproduction Process
Preproduction is the first step in making a video. It happens behind the scenes, but it's probably the most important part of making a video strategy that does what you want it to do. If you don't do the work upfront, you'll never get the result you need in the end. This is where you'll build a strong base video format and content for the rest of your message. It involves two different types of video production services:
creative and logistics.
The
creative sid
e involves:
Choosing a topic for your video.
Writing a script.
Make sure you fully understand the story you want to tell and what you want viewers to do with that story.
On the other hand,
logistics
 is all about the details of how you'll turn your ideas into a finished video.
Production
| | |
| --- | --- |
| ROLE | TASK |
| Producer | in charge of the whole production, from coming up with the idea to ensuring it's done. This includes coordinating, supervising, and controlling the budget, talent, crafts, and more |
| The main Camera Operator (Director of Photography) | works with the Director to ensure that the script is shot the way it wants it to be. They are in charge of the Video Camera Department and the Lighting Department. They also make pictures that tell the story |
| Assistant Camera Operator | uses a clapper board (slating) to mark the point where the audio & video are in sync, make sure the focus is right, and change the batteries and recording media |
| Field Audio Engineer | mixes, copies, and changes sounds and effects |
| Gaffer | in charge of how the lights work. They are in charge of making the plan for the lights |
| Grip | plans and builds the set for a movie, commercial, or TV show. Grips are people who work on the tools that hold the cameras and lights |
| Makeup artists | responsible for putting makeup on the face and neck and how to do it correctly to change how an actor looks |
| Drone Operator | in charge of any drone cameras used to make videos |
| Production Assistant | in charge of keeping the different production departments in touch with each other and taking care of lockups |
Post-Production or Producing video content
After your video has been shot, the next step is post-production. At this stage, services for making videos like
File management
Video editing
Graphics that move or animated explainer video
Voice-overs or voice acting that is recorded
Audio mastering
Changes in colour
Delivering files
Usually, post-production includes everything that happens after filming is done.
Common Types of Video Content
There are hundreds of different types or formats of videos to create good video content, and you can't be sure that the video production company you hire will offer the services you need to make the video you want. Let's look more closely at the eight most common services for making videos:
Event Video Services
Event videos can be anywhere from 30 seconds to three hours long. They can be a "recap" or "teaser" video, or they can be made with more than one camera. This service is used for lectures, meetings, sports, weddings, performances, and other live events.
Services for commercial or advertising videos
Most commercials are 30–90 seconds long and can be scripted, done in a documentary style, or animated. Some examples of this service are sponsored content, branded content, pre-roll, etc.
Documentary video services for advertising
The stories in these 1–30-minute videos are told through interviews. This group comprises promotional videos, infomercials, travel videos, and/or customer testimonial videos.
Corporate Video Services
Corporate videos can be anything from long training videos to videos about a company's culture to promotional videos. Most corporate videos are between 1 and 60 minutes long.
Real Estate Video Services
Most real estate videos are less than 5 minutes long and use various filming techniques, such as drones, sliders, timelapse, and more, to make a mouth-watering experience.
Educational Video Services
Some educational videos are explainer videos, public service announcements, tutorials, animated videos, and how-to videos. They can be short, like 30 seconds, or they can be longer and go into more detail.
Music Video Services
Music video services include exactly what you might think: a musician lip-syncing to make a video for their music. However, other clients can also use them when the video doesn't need an audio story. This type of video can include trailers and teasers.
Social Media Video Services
Most videos on social media are between 15 and 60 seconds long and can have text, music, and narration. This kind of video is popular on Instagram, Facebook, TikTok, Instagram Reels, youtube videos, and most apps like TikTok.
So, ready to take on video content creation?
So, there you go! Here are our best tips for making engaging video content that keep people interested. By following these simple rules, you can make creative and useful videos. Also, don't forget to have fun. The best videos show the brand's personality and make the viewers feel like they know the brand. Are you ready to start making videos that people will love? Tell us what happens in the comments!