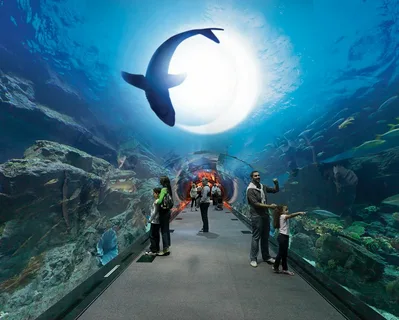 June 6, 2023
---
Eagerly looking for the best zoo and aquarium Brisbane to spend holidays? Then, you are at the right place. Australia -the land of vast plains filled with many miracles and has many rare animals and sea creatures. Undeniably, this small land reserves a huge place in everyone's heart. Eventually, Brisbane is a tourist spot filled with several parks, wildlife sanctuaries, and aquariums. Plan to spend your vacations by booking tickets to the top-rated zoo and Aquariums in Brisbane. Here is the list of places to spend quality time with your families, especially children.
Sea Life Sunshine Coast Aquariums
Sea life sunshine coast is a mammal park, oceanarium, wildlife sanctuary, and is thebest aquarium in brisbane. This place was formerly known as UnderWater World and is owned by Merlin Entertainments. It is also known as Sea Life Centre, which was officially opened in 1989 and still, they maintain this place as same. Underwater World has an interesting history in 1996, many scenes were shot in the park and the main aquarium for Jackie Chan's film Police Story 4. In that shot, a tourist family reflected on a Tank's mirror and had no words to explain their happiness. Sea life sunshine coast is a member of the Zoo and Aquarium Association (ZAA). In 2006 Christmas, they preserved a giant squid in a block of ice for display and it was trending news over the televisions and magazines. The Octopus News Magazine Online TONMO covered this information to spread awareness about this astounding news. Later in July 2013, the owners announced that they are going to refurbish the place with new facilities by spending 6.5 million dollars. They rebranded the UnderWater World as a Sea Life Centre and reopened in December 2013.
Location:
Parkyn Parade, Mooloolaba, QLD, Australia, Queensland
Phone
: +61 7 5458 6226
Website
:
visitsealife.com/sunshine-coast
Services 
Behind the scene tour, penguin encounter, in-water penguin encounter, shark dive Xtreme, seal experiences, and sleep under the sharks
Reviews 
Staffs were very kind and friendly, they gave us more information about new things, we went with our kids, and it's a must-visit place to go with children because they enjoyed it a lot. And also, big sharks, seals, and other sea creatures look stunning and we were clicking pictures throughout the day. Surely the best aquarium near me – Harry
Lone Pine Koala Sanctuary 
Welcome to the world of Koala bears! You can discover nearly 80 origin species of Australia in this place like mammals, birds, reptiles, and amphibians. It includes koala bears, squirrel gliders, kangaroos, rainbow lorikeets, barking owls, emus, barn owls, laughing kookaburra, platypus, and so on. In 2009, this sanctuary's location was announced as the Queensland 150 Icons. Lone pine koala sanctuary is the best zoo in Brisbane and also, the largest and oldest koala bear sanctuary in the world. Its area is nearly about 18 hectares and the first owners are from the Clarkson family and they planted a lone hoop pine tree. So, it is called the Hoop Pine koala sanctuary. This place holds a heart-touching history, they opened it in 1927 to safeguard the injured, sick, and orphanage koalas, because during that time people killed koalas for their fur. this humanitarian act initiated by Mr. Claude Reid and he started lone pine koala with two bears Jack and Jill. Not only now, even during World War II and it was internationally known, even many Americans visited here to watch the beautiful Australian animals and birds, the list includes MacArthur's wife also.
Location:
708, Jesmond Road, Fig Tree Pocket Brisbane, QLD, Australia 4069
Phone
: +61 7 3378 1366
Website
:
lonepinekoalaanctuary.com
Email:
 service@koala.net
Services 
Wildlife experience – platinum tour- new, all-stars tour, koala discovery tour, owl & platypus encounter Photo opportunities – touch a koala, hold a koala, snake photos, raptor photos, and dingo photos (note – to know opening hours visit the website). Virtual tours. Kids program - junior keeper for a day, sanctuary sprouts.
Reviews
It is amazing experience, you can make a visit and enjoy holding koalas and also taking pictures. We went there as a family their kid's activity is a good option for children. Staffs are dedicated and friendly, you can approach them like as your friend. Definitely, we will visit again and create more cherishing moments with families. – Lara
Sea World Marine Park  
Sea World Marine Park is the best marine mammal park and aquarium near me. They provide and conduct many fun activities and rides that are commercially connected with Warner Bros and don't have any connection with the same-named American park. Keith Williams is founder of the park, which was named Surfers Paradise Ski Gardens and most attractive show is Water Ski. Later, in 1972, this place addressed with a new name Sea World. In that year, they introduced dolphins, a replica of Endeavour, a swimming pool, a licensed restaurant, a gift shop, and marine displays. It retains a reputation since the 1980s and is rated Australia's best tourist spot. After 4 years, the founder Keith old this park to Pivot Leisure then, in 1991 joined Warner Bros and Village Roadshow together. They opened a Hollywood-themed park and Pivot also purchased the nearer park located to the site of Warner Bros i.e. Wet n'Wild water park. Now, it attracts everyone around the world, and many people are eagerly waiting to visit this location at least once in their lifetime. You can directly visit their official website mentioned below to know more details.
Location:
SeaWorld Drive, Main Beach QLD 4217, Australia
Phone;
 +61 133 386
Website:
www.seaworld.com.au
Email
: login into their website and you can directly send mail to them from the contact us section
Services
They provide many rides and conduct many fun-filled activities such as Leviathan, tridenty, vortex, dolphin couple adventure, affinity dolphin presentation, PAW patrol on holiday, little penguin keeper talk, ray reef feeding, nickelodeon character meet & greet, seal guardians presentation, turtle power live show, thunder lake stunt show, the new Atlantis, behind the scenes at sea world & polar bear shores, dolphin aqua adventure child, dolphin deep water adventure, seal aqua adventure, shark bay glass bottom boat, shark bay discovery, tropical reef snorkel, sponge bob's boating school blast, storm coaster, and many games and experience.
Reviews 
Dolphins and Seal shows are excellent to watch and they provide a countless number of fun games to go with. We enjoyed it thoroughly and our nephews played really well. A single day is not enough to play, so we came out and planned for the next trip. – Marry
Australian Zoo 
This 700-acre zoo is situated in Australia and is a member of the Zoo and Aquarium Association (ZAA). It was inaugurated on June 3rd, 1970 by Bob and Lyn Irwin and is owned by Terri Irwin, the widow of famous crocodile hunter Steve Irwin. And now, Crikey! Its The Irwins are their family run by his children. This is the solid reason that attracts several tourists towards this place and definitely, it's that worth it. Its background is classified into three such as first 22 years from 1970, then 14 years from 1992, and from 2007 to the present. Zoo also owns properties of Steve Irwin Wildlife Reserve, Iron Bark Station for the koala bears and Mourachan to protect the endangered species Yakka skink and Woma Python. Australian Zoo is also an award-winning tourist spot, hold the gold for being the Major tourist attraction, in 2004. And also, won people choice awards under the category of experience and services presented by RACQ. Surely, you can plan a visit to this zoo and witness a wide range of wildlife animals, birds, reptiles, especially crocodiles, and have hands-on encounters.
Location:
1638 Steve Irwin Way, Beerwah, QLD, Australia, Queensland
Phone:
 +61 7 5436 2000
Website
: australianzoo.com.au
Email
: info@australianzoo.com.au
Services 
Animal encounters, zoo keeper for a day, habitats and attractions, the conversation shows, tours, platinum zoo adventure, birthday club, gift ideas.
Reviews 
The most important thing to say is, they really maintained the cages clean and tidy. Animals were roaming around like their home, it was quite pleasing to watch and the hospitality of the staff was too good. This time we are planning for a whole family trip because it is the zoo near me to enjoy several animal encounters and relax in the calm environment – Oliver
Cairns Aquarium 
Cairns Aquarium is an award-winning place that grabs everyone's attention with its majestic and neat outlook. It won the Master Builder award of Queensland and the award for 10 million Leisure Facilities. This place holds more significance because it is Australia's first built public aquarium and is the home of nearly 17,000 specimens and 9 ecosystems. It has 71 tanks that enclose Australia's largest 400,000 liters water tank, the world's 1st true tidal motion tank, and a deep sea tank. Cairns Aquarium holds many endangered and rare species in the world, which is the one and only aquarium to showcase such creatures in the world. Unlike other marine parks, they prioritize education over entertainment. They held many research centers for children and rehabilitation centers for turtles. In addition, owners understand the commercial demand and they organize events like birthdays and other parties for the kids and others. Dig deeper into their website to know more about Cairns Aquarium.
Location:
5 Florence Street, Cairns City Cairns, Queensland 4870, Australia
Phone
: +61 7 4044 7300
Website:
 cairnsaquarium.com
Email:
 reservation@cairnaquarium.com.au
Services 
Tours & activities – general admission, turtle hospital tours, marine life encounter, aquarium by sunrise & twilight. Dining experience & events – children's birthday party, unique aquatic-themed restaurant, aquarium events & functions Conservation - turtle rehabilitation center Education- school excursions and world heritage area wildlife
Reviews 
Great tour experience a fantastic place to visit, and wider your kid's smile. We just went there after reading positive reviews and we found that everything was true. Super glad our children enjoyed it really well and are the apt place to celebrate special events. They provide services for many occasions and are the best. – Henry
Final Thoughts 
You can visit the up mentioned aquarium and zoo brisbane, Australia to spend time with your family members or someone special. Marine parks and wildlife sanctuaries can wash away the stress and make everyone smile a little wider. So try visiting the best place to enjoy the best hospitality service and watch the most adorable & endangered creatures in the world. Read Next:
Best Thai Massage Places In Brisbane
Disclaimer: The information provided in this response is for general 
informational purposes only. It is not intended to be professional advice 
or a specific recommendation. We recommend seeking your own professional 
advice to determine the best course of action for your specific needs 
and circumstances.