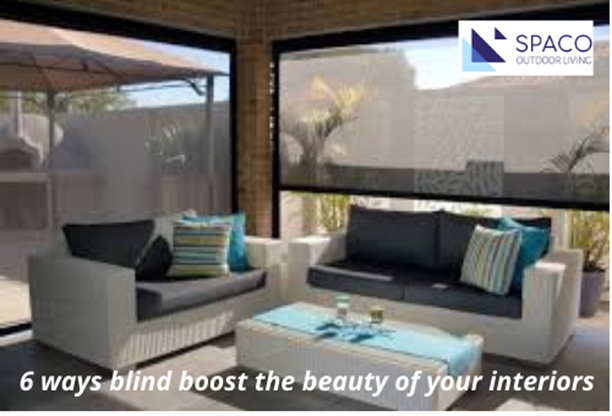 April 6, 2021
---
6 ways blind boost the beauty of your interiors.
Given that the Australian summers can be harsh, indoor coverings and outdoor patio blinds are efficient for cooling and protecting your homes.
Create a cozy corner or a dark sleeping room using indoor blinds.
Whether you choose a roller blind, Venetian blind or dual blind, they add a special touch of sophistication to your indoors and outdoors.
Stylish outdoor blinds redefine your patio and alfresco spaces, while indoor blinds upgrade your living rooms, bathrooms, bedrooms, kitchen, etc.
Enhance your carefully crafted decor and the aesthetic appeal using blinds. Their timeless appeal, combined with minimalist styles, balance any decor without drawing attention from the furnishings and accessories.
Here are 6 Ways How Blinds Can Boost Your Interior
1.  Design Cozy and Comfortable Bedroom
Use blinds to enhance your privacy and comfort. Block-out shades and darker Roman blinds are great choices. For promoting daytime sleep and adequate light exposure, you can even use quality outdoor blinds with curtains.
Consider motorizing or automating your blinds. You can schedule the opening and closing time or operate them from the comfort of your bed.
2.  Create a Clean and Tidy Kitchen
When you install blinds in your kitchen, your primary concern should be ease of cleaning and maintenance. The kitchen is prone to splashes and spills. Therefore your blinds might need occasional cleaning.
PVC or metal blinds with a smooth surface is a great pick. It is advisable to save the textured finish for other rooms since it can be challenging to maintain.
If you find it tricky to maintain the indoor kitchen blinds go for outdoor blinds. You can buy outdoor blinds online at affordable prices with exquisite designs.
3.  Establish Moisture-free Bathrooms
The bathroom is your relaxation haven. After a busy day at work, nothing's better than a relaxing bubble bath with a glass of wine and calm music.
Fabric blinds are a big "NO" for completing the overall spa ambience for your bathroom. You need to remember that this area gets very humid.
Use PVCs or any other materials that are resistant to water damage. This will ensure durability. PVC blinds are available in different colours to suit your style. For an airy and open appeal, use a white palette. Utilize earthy shades to design a raw and natural spa-like environment.
4.  Style Up an Exquisite Living Room
Your living room is the first indoor space your guests would see. It reflects your style and personality. The living room should make a striking impression on your guests.
If you love to have occasional gatherings in your place, you should pay special attention to your living room. Of course, don't leave out the comfort and convenience.
Roman blinds and Roller shades are elegant solutions for this space. For a modern home, shades of grey and white are excellent. Use soft-textures to enhance the traditional style.
If you have an attached patio or alfresco area, pay attention to your outdoor patio blinds. Match the interior blinds with the outdoor ones to create a uniform style. You can use pop-colours or patterns to give a contrasting effect.
With the living room, you've got an ample opportunity to play with styles and creativity.
5.  Devise a Sophisticated Study-Room
Your study-room is a private space. Design it with a perfect blend of privacy and brightness. The light shouldn't hinder your reading or work.
You should be able to maintain privacy with adequate brightness. Slatted blinds are an ideal choice. You can go for mini blinds or Venetian blinds.
If you already have quality outdoor blinds installed, you can try a combination of curtains or install shades to add a dramatic edge to your study's interior.
6.  Built a Safe and Beautiful kids room
It is crucial to create a calming, safe and comfortable environment for your kid. Beautification is important, but it's vital to make sure your baby can have a safe and sound sleep.
With that said, avoid blinds with cords and strings dangling within your child's reach. Of course, you don't want to install them near the crib or your child's bed.
Block-out blinds are highly recommended to create a sleep-friendly space. You can automate or motorize the blinds, so you don't need to deal with dangling strings.
If you still think indoor blinds are not safe, you can always go for outdoor blinds. Buy outdoor blinds with automation. You can control them easily, and it is well out of your child's reach.
With enhanced innovations in interior decor, you can find various patterns, styles, colours and designs for the blinds. Thanks to the internet and technological revolution, you can find affordable indoor and outdoor blinds online.
Find a reputed and trusted online interior solution. Speak to their design consultant to get the best recommendation for your interior requirements. Get design ideas that fit your budget.
Get your home transformed today!