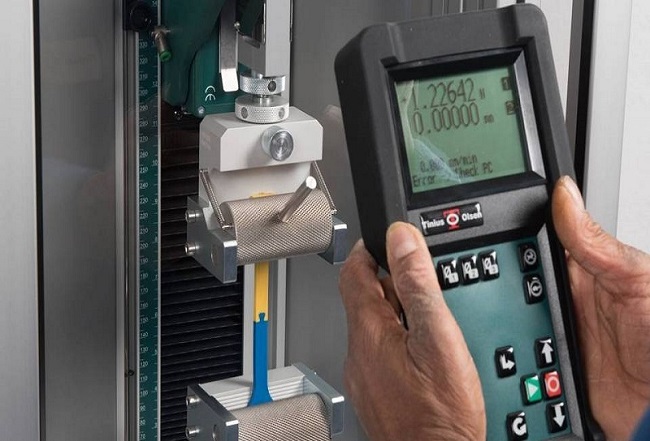 February 16, 2021
---
Compression testing machine is a high-pressure testing machine that is mainly used to measure the compressive strength of different kinds of building materials such as concrete blocks, cement, bricks, rubber cushion, metal parts and ceramics. It utilizes electric hydraulic loading, measuring force by sensors, force value displayed digitally, printer to print the data of force value, and converts the compressive strength automatically.
This machine derives power from high oil pressure. Due to this, it delivers a comparatively large amount of force that is over 200KN. This testing machine helps to evaluate the mechanical properties of various materials. The main focus of this machine is to assess and analyze the static compressive strength of different kinds of building products, materials, and components. It basically helps to measure compression strength, deflection, yield strength, tension, torsion, hardness, and modulus.
Why use Compression Testing Machine?
The test results of this machine basically inform us how a particular substance or material will react when it's compressed or flattened. This gives us data results regarding safety and security features of particular material and you can check the strength of the materials. Therefore, all types of building materials are passed through this test to know about their compressive strength before being used for various construction purposes. You can use this testing machine on various kinds of materials such as metals, wood, electrical components and bio-medical products.
This testing machine is of great value to both manufacturers and construction companies. At the same time, it also gives assurance to the construction companies that material they are going to use for construction purposes is of the best quality with all safety and security features at its place.
Areas where Compression Testing Machine is used
There are many industries and sectors where this testing machine is widely used nowadays. Some of those areas are:
Construction Industry
Cosmetic Industry
Packaging Industry
Rubber and Plastics Industry
Electronic and Electrical Industry
Automobile Industry
How to select the right Compression Testing Machine
While choosing the right type of compression testing machine, you need to consider few factors such as the size of your sample, the geometry of the sample, and its strength characteristics. You can search such machines online and consider the following factors to choose the best one.
Next step would be to determine what kind of test data you want. As per your requirement, you need to choose the right type of controller and software that matches your test.
Advantages of Compression Testing Machine:
This testing machine allows more wide, precise and stable range of test force measurement.
It produces very low noise during the test.
During testing, the control process remains unaffected by the outside temperature, and therefore it delivers a stable performance.
It doesn't contribute to any type of pollution problems because of hydraulic oil running, dripping, or any other leakage.
It offers high reliability and is preferred for long-term use.
It requires very little to no maintenance.
Some precautions to take while operating compression testing machine
All the steps should be carefully taken before starting the test and also during the testing process.
Make sure not to exceed the marking line on the vertical column.
Always make sure that you don't start the motor abruptly at high pressure. This will damage all the electrical components.
Make sure to check the quantity of hydraulic oil in the tank. At least, minimum standard quantity of oil should be present in the tank before operating the test machine.
Always remember to clean the tank after every six months when used frequently.
This was a basic informative guide about Compression Testing Machine. We tried to cover all the important points in this blog regarding this testing machine. You might find this guide useful while looking out for a compressive testing machine for your business.