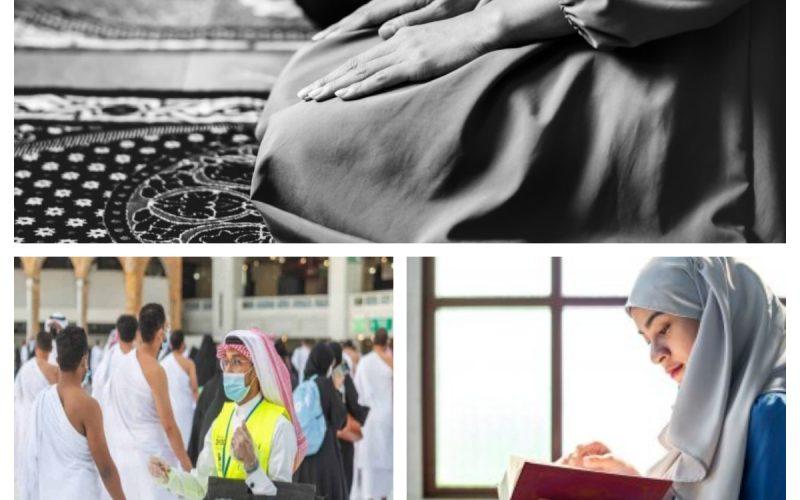 July 17, 2021
---
Talbiyah is extremely important in both Umrah and Hajj. The wonderful journeys bring the pilgrims to the holy land of Saudi Arabia, where sacred rituals are performed to purify the soul and bring them closer to Allah. A Muslim can participate in two types of pilgrimages in the Muslim community. A physically and financially capable individual has a once-in-a-lifetime obligation to do Hajj. However, it has some limitations imposed by the community's lunar calendar. As a result, many pilgrims can plan to perform Umrah.
Although Umrah is not obligatory, millions of people perform it every year.  There are no limits on visiting hours. Every Hajj or Umrah pilgrim begins their pilgrimage with a Talbiyah prayer. So, if you enjoy such spiritual moments, then you must have to book any of the Group Umrah Packages 2021 provided by Muslims Holy Travel. The benefit of booking the group Umrah package is, you can pray Talbiyah with your group members. Another benefit of this offer is that a woman can go to Umrah with their family members or with one of her mahram. So, she can also recite this prayer in a normal voice.
Talbiyah Prayer and Its Importance:
The Talbiyah prayer is one of the first recitations that a pilgrim makes before starting the pilgrimage of both Hajj and Umrah. Whether someone moves from one location to another or meets someone else, the recitation must always be repeated endlessly.  A pilgrim responds to Allah Almighty's invitation to Umrah or Hajj through this prayer or supplication. There are some specific rituals and methods for reciting the prayer.
Jibraeel is said to have approached the Prophet and asked that he instruct his followers as well as companions to strengthen their voices while reciting Talbiyah. Therefore, men must recite it loudly. Women, on the other hand, are not allowed to recite it loudly. A woman must make sure that the person beside her cannot hear her while reciting the Talbiyah. If the man alongside her is not her mahram (accompaniment males), she must repeat the prayer silently.
Invoking the prayer in faith allows devotees to begin their pilgrimage in Allah's glory. The chant begins when everyone has worn their Ihram garments. The Talbiyah prayer is said to cleanse believers' minds. It enables them to set aside all worldly concerns and serve themselves entirely to Allah. Talbiyah is important because it is a formal proclamation of the prayer, which requests Allah for forgiveness and rewards.
6 Sections of the Talbiyah Prayer:
Labbayka Allahumma Labbayk
The first section of the prayer, Labbayka Allahumma Labbayk, indicates that you are at the service of Allah Almighty, whom you greatly respect and love. Its repetition indicates that believers are submitting themselves to Allah and will obey Him. It is Ibrahim's way of responding to Allah's invitation. This section will be repeated to restore your faith.
Labbayka La Shareeka Laka Labbayk
The second section, Labbayka la shareeka laka labbayk, refers to a devotee who strengthens his faith & Says that there is no Creator except Allah. There is no one higher than Allah, and the pilgrim is His property. Other than Him, he would not satisfy anyone else.
Innal-Hamda
Innal-hamda, the third section, asks the pilgrim to worship Allah Almighty. He has 99 different names for which he might be praised in various ways. The phrase also implies that there are countless ways to express thanks to Allah for everything that He has given.
Wan-Ni`mata
It is said in the fourth section, Wan-Ni'mata, that a devotee must begin to recognize His blessings and thank Him for the opportunity to perform the Umrah despite all shortcomings and sins. The pilgrims show their respect to Allah for providing them with a healthy body, a home, food, money, safe travel, and a heart where Allah resides. One must also thank Him for providing them the ability to worship Him with their tongue.
Laka Wal-Mulk
The believer surrenders everything to Him in the fifth section, Laka Wal-Mulk. Allah owns the earth, country, power, sea, sky, creatures, mankind, jinn's, and everything else in the universe. He holds absolute power over all things.
La Shareeka Lak
La shareeka lak, the sixth portion, means that everything the traveler has comes from Allah.  It instructs us to have faith in Him, fears Him, love Him, ask Him, and be impressed by Him.
Talbiyah is all about giving up all worldly pleasures, asking forgiveness for one's sins, and thanking Allah for everything one has. The benefits of prayer include the fact that a devotee does not have to say it alone. It is recited by the rocks, stones, and clods along with the devotee. Everyone and everything, from left to right, recites the prayer words repeatedly.
While repeating the prayer, Talbiyah educates you to surrender your thoughts and use your imagination to feel the plains, mountain ranges, rivers, and deserts. It teaches you to feel connected to your surroundings and to form a partnership with the natural world.