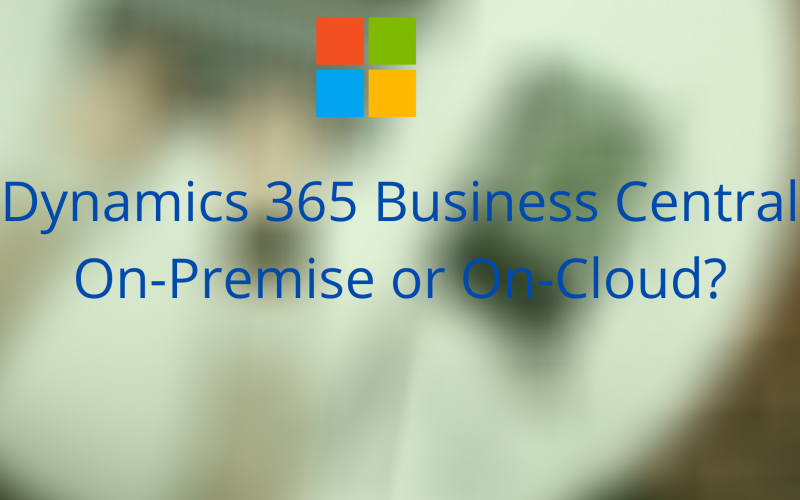 December 14, 2020
---
Microsoft Dynamics 365 Business Central is now being spoken of as the ultimate business solution for small and mid-sized businesses. It may have started out as the cloud version of NAV but is now available on-premises as well. Businesses seem to be having a hard time in deciding what to opt for, Dynamics 365 Business Central On-Premises or Dynamics 365 Business Central On-Cloud?
For those who are unclear as to what these options mean for ERP users, here is some information that will make things easier to understand. An ERP solution located on cloud hosted on a rented server/server operated by a vendor and accessed through an internet connected device is known as hosted on-cloud. When the solution is implemented locally on one's own server, it is known as on-premise hosting. There is a third type of hosting as well, known as Hybrid, which is a mix of both cloud and on-premise. A hybrid implementation offers the same flexibility that cloud has to offer and the same level of security that an on-premise installation offers, though it demands the same level of infrastructure and maintenance as a local ERP solution.
The fourth implementation option is to have the ERP solution implemented as Software as a Service (SaaS). This option has the end user renting the ERP application hosted by an IT Supplier at a fixed price, that includes operating costs and sudden and unexpected costs, typically a monthly license per user rather than incurring each expense separately.
Coming back to Dynamics 365 Business Central, would you want it on-premise or on-cloud for your business?
A Business Central Implementation done on-premise is generally best suited for those companies in need of full control over their own server. It is also advised to those companies in need of more customizations than what the cloud option can offer. If you choose Business Central On-Premise, it can help you run all of your business processes in exactly the manner that is needed, regardless of the type of business you operate and irrespective of the industry in which you function. An on-premise implementation gives to the end user the functionalities needed to streamline and optimize the operation of the company, at the same time letting the user insights into the company's processes individually.
On the other hand, Dynamics 365 Business Central implemented on-cloud is best suited for those companies that neither have the time nor resources to find the most suitable server solution to run it. The Cloud version of Business Central may not be as flexible and as adaptable as the on-premise version is, but it offers to the end user some exciting Extensions. These extensions are plug-ins that help customize the solution to suit one's needs without making any alterations to the basic code itself. This implies that extensions are not real adjustments but finished solutions.
If companies that are existing Microsoft Dynamics users want to have a Business Central implementation done in the form of Software as a Service, then Microsoft is giving them a lucrative offer of saving up to 40 percent on licenses until 30 June 2021. Business Central SaaS deployments will have licenses and hosting included in one monthly subscription, and though the scope for customization might be limited end users can use Extensions 2.0 to enhance their solution.
Summary: The cloud option is ideal for smaller and less complex companies with limited internal IT resources whereas the on-premise option is more flexible and adaptable and better suited for larger companies with complex business processes.