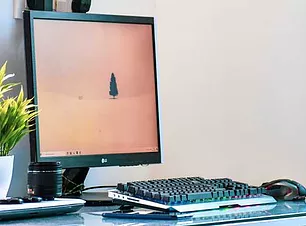 September 29, 2021
---
Your computer might malfunction or something might go wrong if there is a slight change to the way users use it. It might get infected with a virus or malware, might malfunction on a fall or might gradually hear strange clicking, grinding or similar noises from the device. However, if this goes on, soon the computer might fail to function properly and you will have to search for computer repairs near me. However, it would be a much better idea to opt for Norms computer services as they professionally analyse and solve the issue in a reasonable way at a reasonable price!
The Most Common Issues You Could Solve By Yourself
Do not repair if unaware: If you are unaware of what causes the issue such as rustling, rumbling or some sort of malfunction, never try to repair it by yourself. It might even lead to data loss or drive failure that would need you to replace the entire device. However, if you do not have a backup of the data, avoid panicking as the lost data could be recovered using the software.
Know that some solutions can be simple: Before you take the device to a repair shop, check if the issue is due to the following:
Is the device charging? Check to switch to different power adaptors and turn on the device.
Check the power chords and make sure that they are plugged into the device.
Make sure that all components are switched on and plugged properly.
If the internet is slow, check if the wireless router works well. You could check this by switching the device's internet signal with another Wi-Fi network or with the cell phone's signal.
Software issues might be the cause: There are high chances that the software you use might misbehave or annoy with the usual set-up of your computer. If something goes wrong, you could try a combination of resources to try and get the device back under control.
Restart the device: One of the best solutions for any software issue is to restart the device or the programs you might be using.
Keep software & the operating system up to date: You have to make sure that your device is running an up-to-date version of the operating system and other software. Security patches are issued frequently by various device manufacturers and software companies. Make sure that you keep the auto-update options on to keep the operating system, software and device drivers up to date. Failing to update might make your device more vulnerable to virus attacks or hackers and it might create a conflict between the operating system, software and apps installed on the device.
Reinstall the software: Sometimes, an important file might turn out to be corrupted. In such cases, reinstalling the software could help in solving the issue. Once you reinstall the operating system or the software, you could check if your device qualifies for the minimum requirements to run the program. Check if your computer is powerful with adequate memory, processor, graphics card and hard-drive space. If any of these elements are not met, the software might malfunction.
Go back in time: You could revert to the time where the system worked smoothly without glitches. When it comes to windows, you could do the system restore, pick a restore point. When it comes to Mac, you could restore from a time machine backup and pick the restore date before the issue occurred and proceed with the restore. If the problem is caused by installing new software, updates or drivers, it could be fixed easily. Follow the below link to find out more about them  https://www.normscomputerservices.com.au/computer-repairs