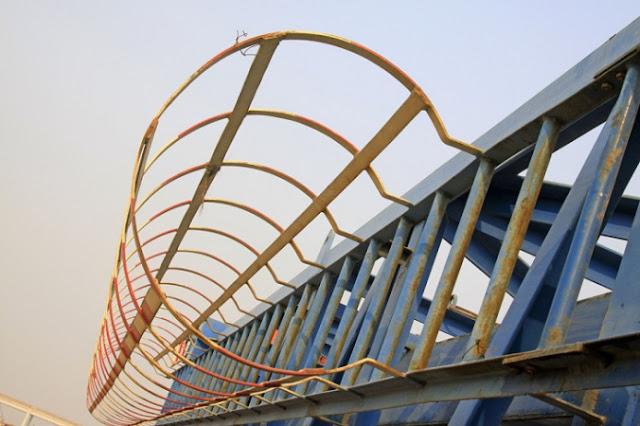 August 16, 2021
---
Ladders are useful thing in our daily life. From changing lights of room to complex problems like repairing works at the top of roof, you need a ladder for your safety. Whenever you climb on a ladder you are at the risk of fall. If you are climbing a multi storied office building and if you are not afraid of heights then climbing to the top of the building is a time consuming task. But by using caged ladders at height safety you can keep yourself safe.
What Are The Benefits of Using Caged Ladders At Height Safety?
Cages around the ladder prevents fall from these heights. Cages and guards enclose the ladder's climbing space. These things are generally attached to building or onto the ladder itself. These cages help the workers to balance themselves or affirm foothold of falling in back side in case of slip. In some of the cases, these cages provide you opportunity to take some rest and readjust your gears while you are working on height. Using caged ladders at height safety can protect your workers. For safety purpose all fixed ladders have to maintain certain heights. For certain structures like silos they can substitute alternative safety devices.
In Australian law, under the section 19 of work health and safety act the employers are bound to provide health and safety of the workers, they cannot put their workers at risk for the work. Rooftop access for multi storied building can be dangerous if not proper protection and safety measurements are installed. Otherwise, you and your business can be penalized by the government.
There are many unfortunate incidents that happen while working on heights. But, you cannot stop your construction project due to such treats, and you can use a caged ladder in this regard. Using caged ladders at height safety can be helpful in fall protection. There is cage tread ladder or caged rung ladder for your purpose. Each of these ladders is manufactured with lockable cages. By applying locking plate on these ladders you can restrict usage by unauthorized person. You can use these techniques to secure your site from trespassers. You can go for fixed tread ladders or rung caged access ladders to work in the high rise structures. You can find caged access ladders in apartments, high rise buildings, school, hospital, chemical plants, factories and other such facilities.
For better solution for height related problem you should go for the ladder that complies with Australia's national construction code and AS1657. There are customizable options for caged ladders to serve your purpose. You should always go for a ladder made with heavy duty aluminum. All the ladders should be well fabricated and welded. Go for a ladder that has corrosion resistance coating because you are going to use your ladder outdoor. Using caged ladders at height safety should suit your sole purpose of protection of your workers.
By using caged ladders at height safety you can save your company for future problems if any accidents occur. Go with a company that has experience in fitting ladders. You can check about their services online. All the details of their works are mentioned on the website. Check the company background and ask to the people who have taken their service previously. If you feel satisfied then you can definitely go with the company for installing such caged ladders in your building.