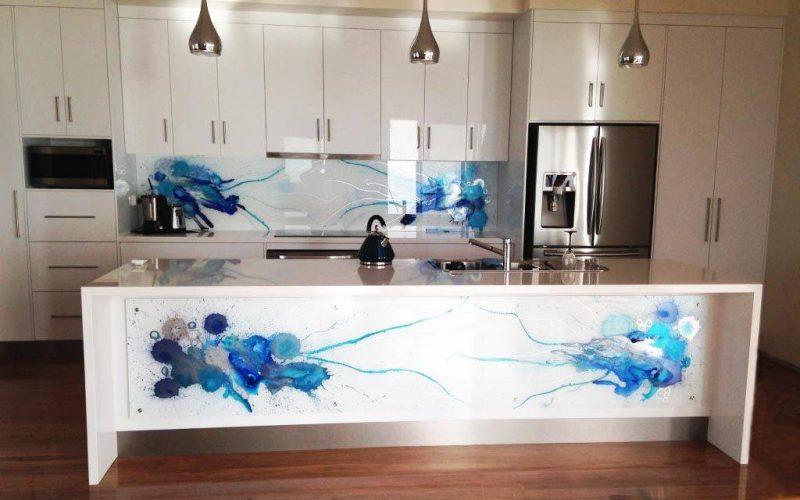 May 3, 2021
---
After several attempts, you may have narrowed down to two vital options viz. glass splashback and tile splashback. Now, which one would you finally select from these two splashback options. Let's go over their benefits quickly so that you get a better idea about the splashback material that best suits your kitchen interiors.
What Benefits Does Glass Splashbacks Provide?
1. Easier to Clean & Maintain
Glass splashback does not have grout, so they are easier to clean. All you need is a simple glass cleaner, and you can rub away any stains quickly and effectively.
2. Beautiful Feature
Glass splashbacks resourcefully used in a contrast colour to the cupboards and other kitchen features. Thus, your glass splashback can become an adornment of the kitchen in its own right.
3. Modern
Regardless of how you beautify your kitchen, glass splashbacks can offer an ultra-modern look to your kitchen interiors. Besides, glass splashbacks will not only work great for the cooking space but also the entire kitchen.
4. It Can Create Luminous Atmosphere
A glass splashback is known for creating luminous kitchen interiors. The moment light reflects on the glass splashback; you will notice that it creates a bright atmosphere. Besides, it can make the kitchen feel spacious. Moreover, you'll not see any joins with a glass splashback, so you can get a sleek look that you won't get with tiles.
5. No Mould & Fungus
As there are no joins or crevices in a glass splashback, there is no space for mould and fungus to form and develop. Thus, glass splashbacks are ideal for clean, healthy and hygienic kitchens.
6. Harmonise Your Kitchen
With glass coloured splashback, you can easily choose the colour that will go well with your benchtop and the rest of the kitchen interiors.
What Benefits Does Tile Splashbacks Provide?
1. Patterns & Textures
With wall tiles, you have plenty of variations in patterns and textures to choose from; however, your options instead are restricted with glass splashbacks.
2. Feature Tiles
You may come across tiles that you may want to make the feature tile of your kitchen space. However, to keep the costs under check, it is best to use these distinctive tiles in certain parts only. In this way, you'll be using a speciality tile to feature in your kitchen while curtailing your costs.
3. Adaptability
The tile range is massive, and it ensures the full customisation of your kitchen. Besides, tiles offer a variety of styles, textures, patterns and sizes that glass splashbacks do not provide.
4. The Cost Advantage
The cost is the single most thing that still persuades people to install tile splashbacks. Depending on the size of your kitchen and the dimensions you select, glass can get pricier. Besides, wall tiles are low priced, and you can also buy them at several warehouses as "seconds".
5. Size
Wall tiles can be easily cut to size when needed to complete the tile installation. Besides, wall tiles come in different sizes, so you may not require cutting any tiles to size. It is not so with glass splashbacks and at times, glass splashback come in sizes that are not suited to your kitchen, making it difficult or almost impossible to cut to size.
6. Conventional Looks
Wall tiles are an excellent choice if you want a traditional look for your kitchen. That's because wall tiles have been always used as conventional kitchen splashbacks, and this look will harmonise the older-style kitchens. For instance, a country kitchen will come alive with a wall-tiled splashback.
The Bottom Line
If you have a spacious kitchen or you can get the precise glass splashback that is perfect for your kitchen measurements, then go with glass splashback as it can transform your entire kitchen space. Conversely, if your kitchen is small or glass splashback not available for your kitchen measurements, then tile splashback is the best option for you.
If you like bright colours in your kitchen, but you also intend to resell your home in the future, then select neutral colours as it will last for many years to come regardless of the current style. However, if you love to see bold and bright colours in your kitchen, then you can fulfil your desire by selecting bold and bright appliances and accessories.