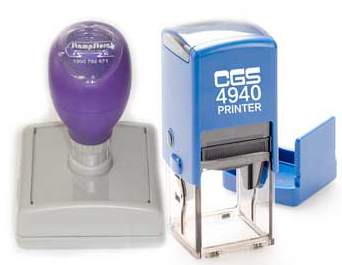 February 16, 2021
---
In the digital age, business people give more preference to paperless offices, inkless, and mess-free workspaces. Almost all the aspects are computerized nowadays because they render amazing convenience, speedy delivery, and ease of storage. Many useful and beneficial office supplies have lost their importance and place in the work environment. However, Rubber Stamps are still maintaining an essential part of any workspace. Are you reconsidering the reasons behind this?
Simple and convenient to use
To the digital document, adding the image, logo, and signature takes more time and effort. In the work environment, time is considered a great asset. You should search for the ability to save time and work on other activities. This is where it comes into play with Custom Stamps. It helps you a lot in personalizing the documents without wasting your time moving texts and images on the screen.
With a single press into the ink and dab it on your document, you will get all the required information. You can keep the rubber stamp whenever you want whether it is a desk or in your pocket. It saves more of your time whenever you need the approval and urgent signature. Additionally, it saves your money because stamps are accessible at cheaper price.
Keep your records organized
Do you know that having the customized stamp with too many functions is similar to having the document organizer ready to use? The common stamp phrases are paid, canceled, received, and the copy is highly vital and essential in assisting you to organize the documents. Even though you have not arranged the documents properly, the stamped impression lets you organize the documents quickly and easily into their respective categories. It means your workspace will be clutter-free.
Printed documents never get phased out
As different companies are opting to go paperless because of its inexpensive nature, most the people think that printed documents will be phased out completely. Similar to the financial market, paper money is still valued and usable with several forms of the paperless payments introduced every year.
Actually, business operations across industries or within departments are still engaged with the stamped documents for proper record keeping and ease of authentication. This is why customized stamp makes your business process easier and simpler. Most importantly, it also inexpensively promotes your brand. To sell your goods, it serves as a great promotional tool.
Easy to order to get
Those days are gone in which you had to wait for some time to get the stamp. Additionally, you never had any chance to customize the stamp. You had to use it whatever you obtained. In most cases, the stamp contained a few details. However, the technological innovation has changed many things and allowed you to get the Stamps Sydney instantly. All you have to do is engaging with the reliable stamp manufacturer and sending the image of the text, company logo, and other details you want. After placing the order, you will get the stamp in a short time and directly to your doorstep.
After knowing the benefits of a rubber stamp, if you want to purchase within your purchase, Stamp Store is the right destination. It offers different types of stamps at an affordable rate.