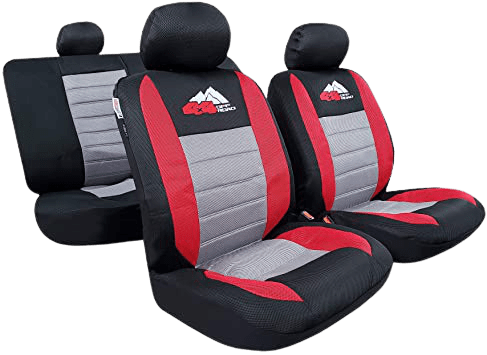 January 10, 2022
---
Today, cars come with many pre-installed features. Earlier, people used to buy things like reverse cameras, touch screens, and speakers separately. With most features coming pre-installed these days, the option to personalise your car is diminishing by the day.
But there are still some accessories that can make your car look authentically unique; one such accessory is a car seat cover. The 4×4 seat covers offer not only high functionality and comfort but also make the car look good.
They help you to stand out, apart from the crowd. Seat covers are among the best car accessories; they don't cost much and make a huge difference. The nature of the seats impacts how spacious and airy the car will feel.
Following are some of the main benefits of car seat covers:
Extra Protection
A major benefit of car seat covers is that they protect the vehicle interiors from wear and tear. This is why they are advised for people with kids and pets as well as those who use the car frequently on rough roads and terrains and in inclement weather. It will help reduce the mess caused by kids and pets and those who enjoy an adventurous life, like beach or trekking enthusiasts. Car seat covers can be cleaned easily, thus protecting the original seat covers from damage.
Improved Comfort
Many car seat covers come with various amazing features, all of which aim to help one feel more comfortable. One can find car seat covers with massage and heating functions. Seat covers with heating will keep you warm and toasty in winter, while massage seats provide amazing relaxation from time to time. All this while protecting the original seats from direct contact with your body.
Personalisation 
Though you have little control over the appearance, shape, and texture of the original seats of your car, you can easily customise and decide on the looks and nature of new car seat covers. This way, one can tweak the looks of the car interior with the options of your own choice.
For example, you can select the colour of the car seat cover from the numerous options of colour and designs in the market. You can also choose the material for the cover- one that works best for your needs. Car seat covers come in materials like leather, denim, canvas, etc.
Affordability
Another benefit of the car seat cover is that they are available at affordable rates. In contrast to buying a new vehicle or replacing or reupholstering the full car seat, one can buy a new car seat cover at a budget-friendly price. This work is more cost-effective than the former option and will offer a positive result within a short time.
Low Maintenance
It is quite easy to maintain car seat covers as they can be removed and washed. In fact, some car seat covers can be machine washed, adding to the ease of maintenance. Even a leather seat can be cleaned by wiping with a towel.
UV Protection
Usually, sun rays passing through car windows can fade the car upholstery; they have a bleaching action. But the right seat covers can protect the interiors of the car from damage by sun rays.
Beauty
In case one's vehicle interiors look worn out from use; one can spruce them up with fresh seat covers. The cover can hide any stains stuck onto the original seats. Any faded or torn upholstery can be hidden.
In sum, new seat covers for your vehicle can improve its looks and comfort. Best of all, 4×4 seat covers can add much to the resale value of the vehicle.