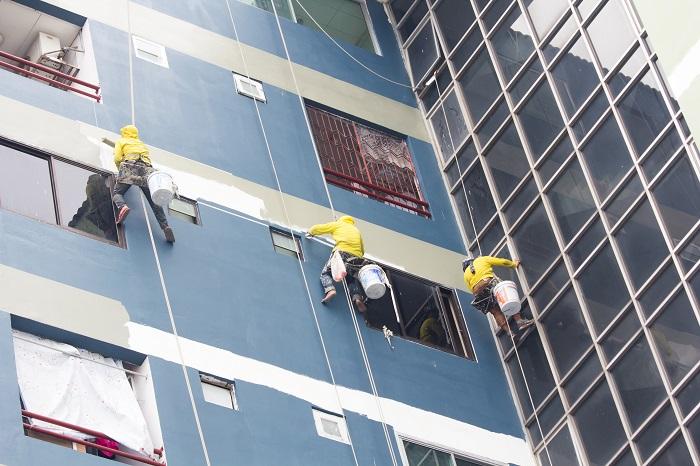 December 17, 2021
---
Commercial buildings are not easy to maintain because they see a lot of foot traffic. You can't keep everything in check right according to your requirements and it can be a nightmare for a perfectionist. However, everything is possible with the right planning and experience. While you might lack personal experience, a wise person uses other's experience to his gain. This article has tips based on the experience of managers of commercial buildings.
Use High Pressure Cleaning
A commercial building, whether it's a company or an educational institute, sees a lot of foot traffic. Many of them have vehicles driving in it or at least parked somewhere. That kind of traffic leaves a lot of strong dirt. You see all the dirt of the outside world coming with shoes and tires. On top of that, one also can't ignore the black marks left by tires.
No matter what you do, it's not possible for a single person to clean that without proper equipment. You can try to clean every day but you will never get the 100% clean look. It's important that you use high pressure cleaning to properly clean these areas. If you don't have the equipment or the staff to handle it, you should hire a service provider to do it for you once a week or month according to the requirements of the building.
Schedule HVAC Maintenance
You will face the most problems and criticism and any of the HVAC systems is down. People usually can't stay in a commercial building when heating or cooling is down, especially if it doesn't have a lot of natural light and air.
You shouldn't wait for the systems to go down before you repair them. You have to ensure that it never goes down instead of fixing it when it does as a part of your job. This is why you should schedule bi-annual HVAC service and maintenance even if you haven't noticed any problem. If there is any problem coming your way, it will be spotted in this service session and resolved before time.
Utilize the Night Time
No one wants to see the building getting maintenance when they are working or studying. This not only makes everyone uncomfortable but also makes the job of maintenance staff difficult. If you have to do some maintenance or cleaning, make sure you call them after the working hours.
Normally, the night time sees the least traffic and that's when you should schedule any maintenance. No matter what service you hire, ensure that it doesn't have to face the people who work or study in the building.
Inspect Everything Yourself
Do not leave everything on the service providers or other staff. As a manager, you should inspect everything yourself. Walk around the building and see if there are any issues. From parking to pipes, you should see if anything could use an extra hand.
Do not for anything to get messed up before you take action. Keep a notebook in hand and write down everything you feel could use a service.