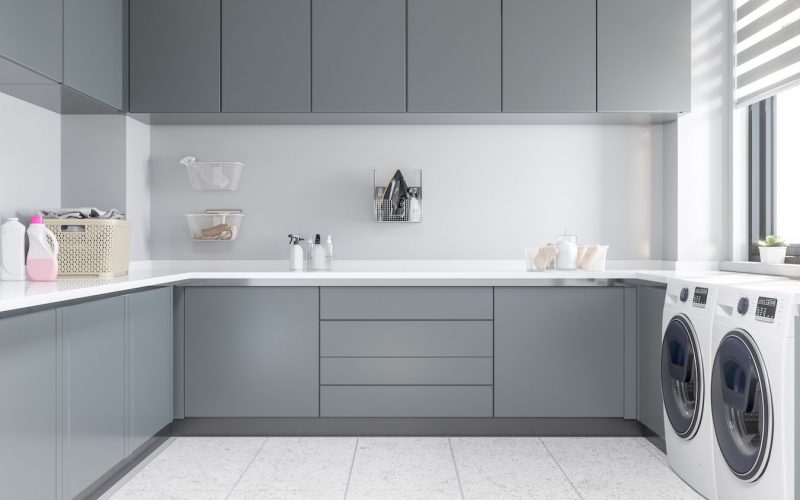 November 25, 2020
---
It is indeed true that laundry isn't an ideal place to spend time with your guest, but it's great to have a functioning and stylish laundry room for your benefit. According to a survey, people in Australia spend an average of 3 hours and 23 minutes a week doing laundry. Which almost equates to more than seven days a year, or maybe more than one year of an average life span. If you are going to spend a long time while being in the laundry room, you might want to think of a laundry renovation. In Melbourne, laundry renovations are considered to be one of the few refurbishment processes that could turn the outlook and value of your house upside down (in a good way). Some of you might be worried about the cost of renovation. Well, it necessarily doesn't need to be expensive if you decide to spend money in the right place.
1) Finalise Your Budget
Before planning for a laundry space renovation, list down items that are required in a laundry room. This includes a washing machine, dryer, drying rack, sink, iron, ironing board, shelving for detergents, stain removers, and other laundry essentials. How you finalise your budget for your laundry renovation matters a lot as apart from buying the laundry items, you will be spending money on the remodeling.
2) Leave Plumbing Alone!
For a budget laundry renovation, one of the most important things to keep in mind is to leave the plumbing system alone. Even a slight change in plumbing can be expensive as the entire plumbing system is connected. One tiny plumbing fault can result in you spending some good handsome amounts to change the entire plumbing system of your house! During the initial planning phase of laundry renovation, don't plan to move the washer and dryer. In case if you want to, get in touch with a plumbing expert for cheap and creative renovation solutions that can save your time and money.
3) Installing A Functional Storage
One of the major reasons why people invest in laundry renovations is because of functionality. Laundry renovation shouldn't be just about making the space look good, but making your life easier.  Installing cabinets, floating shelves, and baskets and helps you organise and arrange the chemical products in a laundry room. They are also a great option to stock all laundry products. Flat-pack cabinets are the best cost-effective option in terms of the storage system.
 4) Stacking Around The Machines
Machines like washers and dryers take up a good amount of space in your laundry room. But this doesn't mean one needs to compromise on its functionality. Since your laundry room has limited space, you can consider installing building cupboards, benches, or tabletops above or around your machines.
Are you planning for a laundry remodeling on a budget?
The Renovation Hub is one of the best laundry renovation solutions in Melbourne. They offer you a custom kitchen and bathroom renovation along with laundry design services in Melbourne. . Whether it's a kitchen, a bathroom, or a laundry refurbishment, the only result they want to see is a happy customer!