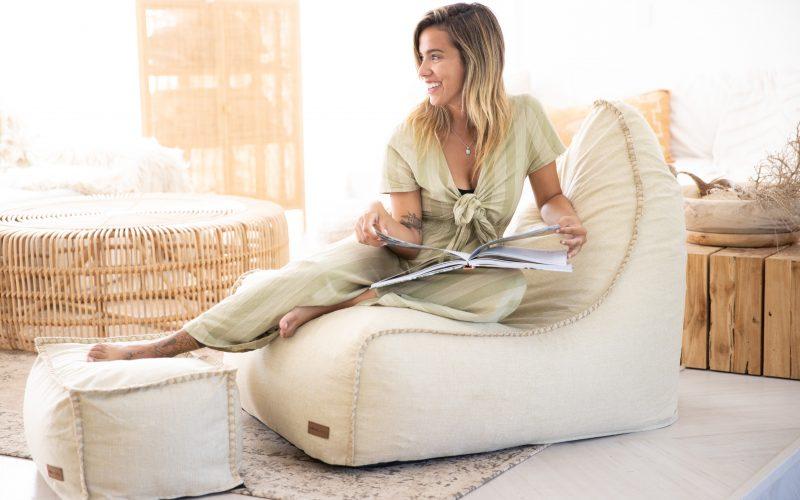 June 16, 2021
---
If you are looking for a classic piece that will offer timeless charm and a whole lot of comfort, then a bean bag chair is an excellent choice. The iconic bean bag has come a long way since their inception in the 1970s; today they are a statement piece … from armchair designs through to a day beds and bean bag sofas. Here is what makes the bean bag chair so popular.
Move from Room to Room
Bean bags are super lite, unlike heavy couches, loungers or armchairs, which makes these gorgeous pieces easy to move from one room to the next. Especially good for our little humans who may like to take their comfort chair from their playroom to the living room. Likewise, if you need to lift them to clean up.
Great for Posture
The bean or foam filling will mould to the contours of your body, encouraging you to sit in a particular way that will inevitably support your posture. Contrary to couches, you will normally have your bean bag facing what you are looking at, so you won't need to like on an angle to see the television or chat to the family. Additionally, the comfort will help eliminate stress and relax the muscles.
Low Maintenance
Thankfully, bean bags do not come with a thousand pieces that you have to try to fit together, rather all you have to do is either fill the covers with foam or bean filling. If you take care of your bean bag, you will only have to fill it just once … or at the very least, simply top it up on a yearly basis.
If you purchase a quality bean bag with an inner lining, you should be able to remove the cover easily and put in the wash on a gentle cycle. Outdoor bean bags simply require a warm damp soapy cloth to wipe away the dirt.
Suitable for Virtually any Room
Bean Bags can be used for many purposes in virtually any living room. Get comfortable with these iconic pieces in the living room, as a reading chair in the study nook, as a statement piece in the bedroom or as a chill out floor cushion in the kids' room.
Great design shouldn't just be restricted for the indoors. Outdoor bean bags and poolside loungers are now a huge trend, buy a quality one, and you will get many years of pure comfort to be enjoyed outdoors too!
Affordable Luxury
Look we are not going to lie to you, a good quality bean bag is not going to be like the cheaper ones you can buy from your larger retailers, but they will be a lot cheaper than an armchair or outdoor setting. Modern bean bags offer incredible value and suit modern themes.
There are many great reasons why you should invest in an iconic bean bag chair and one of the best is because they are like sitting on a cloud. Moreover, if you are looking for beautiful design that offers timeless class and sophistication, then now is the time to invest in a bean bag chair.