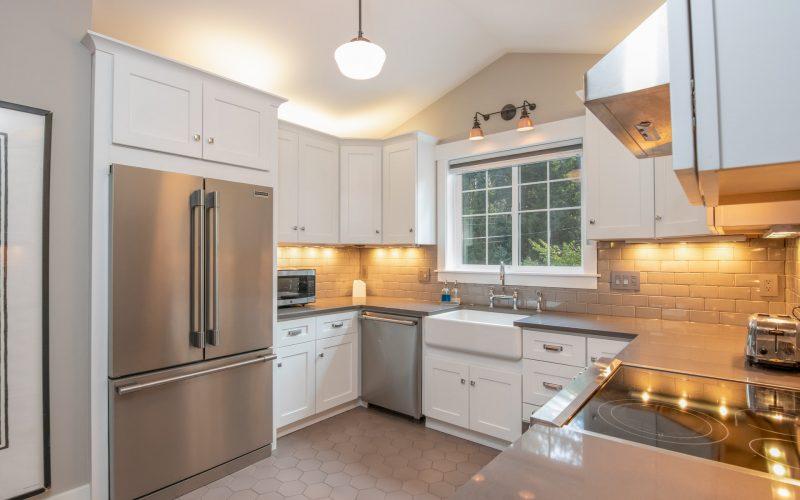 May 3, 2021
---
The name Hamptons style kitchen comes from a village group and hamlets, which is situated at the east of Long Island. For many New Yorkers, this is the desired summer destination. A range of homes beautiful, luxurious, and calming in this area. This is why a new style, the Hamptons style kitchen, has emerged. It is spacious, breezy, bright, and calm, but reflects elegance and attractive design.
If you want to design a Hamptons kitchen, then read on.
Will It Match My Home?
To make a Hamptons style kitchen, you don't need the beach or home in Long Island. All you need is a design that matches your architecture and interior. Typically, you need a large kitchen with elegant items.
The architecture of this space matters a lot, including timber beams, high ceilings, wooden floors, or huge windows. You need natural light and many other features. However, having these features is an add-on, you can still create a Hamptons style kitchen with the important elements that we have discussed below.
The only thing that you need to keep in mind is that you need more floor space. A Hamptons style kitchen doesn't look good in a closed space.
What Do You Need in a Hamptons Style Kitchen?
Below we have discussed a set of things that you need to create a Hamptons style kitchen:
1. Natural Material
Firstly, focus on natural materials, such as timber flooring. Choose a lighter shade of wood because we are going to pair it with a subtle colour palette eventually. Of course, there's no rule, so if a darker shade complements your kitchen and cabinets, then that is an option too. However, contrast it with the countertop, cabinets, etc. for a contemporary interior.
Along with the cabinets and flooring, you need to incorporate subtle or natural wood tones in the furniture as well. A light-coloured or whitewashed dining table with comfortable fabrics, like linen, cotton, and leather will look great.
2. Light and Subtle Colours
For a breezy and airy look in your Hamptons kitchen, you can choose subtle colours. For instance, white is the most common choice for users because it is difficult to mess up this colour combination.
If you look at it, then white is just right in every way. It reflects more light, it makes your kitchen look larger, it helps natural light accentuate other elements, and it is easy to pair with other things, such as your window design or countertop. In fact, white makes your kitchen look clean and fresh; only if you maintain it.
However, don't limit your possibilities with an all-white countertop or cabinets. Combine these elements with ocean-like colours, such as shades of grey, green, brown, and blue. Mix and match subtle and lighter tones of these colours for a calm and cool interior and look and feel.
3. Marble Countertop
The look of the east coast is not just about the beach or subtle colours, it is also about luxury and elegance. This means that you need an outstanding countertop featuring marble. This marble kitchen benchtop will perfectly match your Hamptons style; offering it a unique and royal appearance. In fact, marble kitchen benchtops are a must-have not only in a Hampton style but in any contemporary or subtle kitchen.
4. Shaker Cabinets
A major element to put in your kitchen is shaker-style cabinet doors. In a Hampton style kitchen, shaker cabinets are a go-to option. It blends with the contemporary or traditional detailing of your kitchen. You don't even have to add fully wooden cabinets, as glass panels in between cabinet doors would contribute to the look of your kitchen. In these glass-panelled spaces, you can showcase your fancy cutlery.
5. Pendant Light
Oversized and huge pendant lights accompany large ceilings well in a Hamptons style kitchen and home. If you are making a kitchen island or placing a dining table, then use a pendant light over it for a featured space. It will accentuate the entire kitchen.
6. Tile Splashback
When we are remodelling the kitchen, then splashback is the last option on the list. However, in a Hamptons kitchen, you have to decide this rather early to match everything else. There are usually two options, a marble or tile splashback.
The marble kitchen splashback seamlessly fits your kitchen and its gorgeous patterns offer an interesting luxurious look to your kitchen. It even pairs well with the marble countertops.
The tile kitchen splashback is also a great choice for your Hamptons kitchen. The traditional manner, herringbone or diagonally placed tiles really complement your cabinets and countertop. You can use textured tiles in blue, grey, or green colour.
Why Make Hamptons Style Kitchen?
Every one of us wants a comfortable and luxurious space to live in. A place that is aesthetically outstanding and elegant. A Hamptons style kitchen provides the perfect beach-side look with a holiday feeling. Follow the above tips and appropriately design your kitchen.