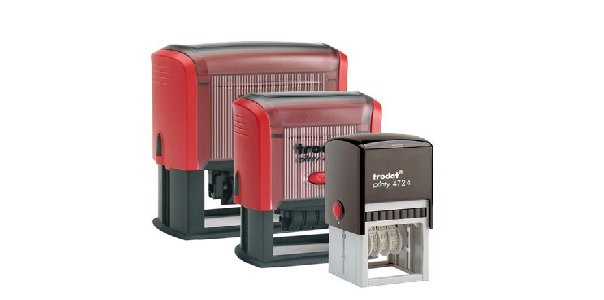 March 25, 2020
---
A rubber stamp is like a sort of printing machine in your hand. It plays a defined role in businesses and most people do not think of using it elsewhere or for purposes other than routine ones. Find out how you can use custom stamps creatively.
Creating patterns on paper
One use you can find for custom stamps is to first create a stamp with just the company name and logo. Then, you can use it to create a pattern on wrapping paper by printing repeats to cover the entire sheet. You have a wrapper that speaks volumes about your business.
Printing on surfaces other than paper
Rubber stamps are associated with paper. However, you can use stamps to print on surfaces other than paper. You can print on glass and plastic. You can print on curved bottles too. Simply use permanent marking ink instead of the normal stamp pad ink. Another option you can try is to buy a small tin of flexo ink used by printers to print on plastic and glass. Swipe ink on a flat surface and then rub the stamp on the inked surface and transfer the impression to your plastic or glass container. If you are running a small business and do not find it practical to buy 100 or 1000 printed containers in one lot you can use this trick to print on surfaces other than paper.
Creating art work
Artists can paint and sell such sketches on a one-off basis. However, you can reduce cost and sell many copies by transforming your line art into a custom rubber stamp. If it is a large sized design then get a rocker stamp made for you. You can use this to print on paper or canvas using a variety of printing inks. You can create etching in metal by using an etch resist ink along with the stamp. The printed design resists acids and you can etch the copper or steel plate. You can use these stamps for wall art too. The possibilities are limited by your imagination.
Small business stationery
If you are running a small business from home you can use custom stamps to transform plain sheets of paper into business stationery. Print on the top and use the paper as your letterhead or cash invoice.
Tattoo
Do you like the effect of tattoos but do not want a permanent one and you also hate tattoo stickers. The solution is right there before you. Create your own artwork or pick line art you can find online and transform these to custom rubber stamps. Now, you can use these stamps and inks to tattoo yourself and be the center of attention in a party.
Custom stamps are versatile. You can use them in business environments, for personal use or for artistic purposes. You only need to visualise the possibilities and become creative with the stamps.