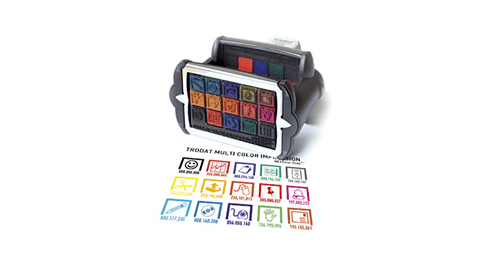 June 29, 2021
---
This is a device with a rubber printing surface that becomes coated with ink by being pressed on an ink-situated pad which is used for imprinting dates, address, standard designation and notices, etc., manually.
Rubber stamps or custom stamps are also known as stamping. It is a craft during which some sort of ink made from dye or pigment is applied to a picture or a pattern is being carved, moulded or laser engraved onto a sheet or any parchment paper. The stamps are usually onto a more stable object like a paper or any hard documents.
TYPES OF STAMPS
Start saving time by using address ink stamps. Address stamps are convenient, cost-effective and cheaper than labels and are convenient to use.
Monogram stamps allow leaving the mark of name, initials or business logo with different styles. Monogram stamps combine the complete name or initials of a private business.
Customized stamps are a great way to quickly mark receipts, bills and other documents. This stamp works like a regular stamp except it has a movable band that adjusts for the year, month and day.
Personalized self-ink stamps are the easiest stamps. These stamps can be customized with name and address and different styles.
Self-ink rubber stamps are stamps which have inbuilt ink within it. These stamps are ideal for rapid and repetitive stamping because it automatically re-inks itself.
Multi coloured stamps are stamps which can print stamps in different colours. The name itself represents the stamps in different colours.
These stamps are made by public authority and in pursuance of law. These stamps are in short used as signature stamps of any legal authorizing mark.
These embossers are used by notaries, architects, engineers and corporate officials to validate the authenticity of the document.
WHICH PAPERS ARE SUITABLE FOR CUSTOM STAMPING?
Papers such as metallic, deco fills, silk papers, sticker papers, legal hard documents are the most effective for stamping. Custom ink stamp works best on both coated and uncoated papers.
HOW MUCH DOES A CUSTOM STAMP COSTS?
It depends on the type of stamp purchased, and even the mode of purchasing whether it is online or offline.  Online custom stamps start from $4.95. Seeing their use and durability this price is negligible. You can easily find these stamps in the market or online because of their demand these days.
HOW DO WE CREATE A CUSTOM STAMP?
There are some easy steps to make a custom stamp.
Step1- Search for which you want to make.
Step2- Find the stamp mount to be made.
Step3- Choose the customizing template to be made
Step4- Upload any graphic
Step5- If any editing needs to be done, do that.
Step6- Add any text or any ink Colour.
Step7- Place your final order.
USES OF STAMPS
We use these stamps to make our business or personalized gift look attractive. These days stamps are highly used in hand made gifts because it automatically catches the eye of the reader. However, in many countries, the use of stamps is banned. In those countries you cannot use stamps in gifts or in your business, only official government authorities use stamps there. But in Australia you can use them in any business or on any gift card. The stamp size, shape vary from place to place or country to country.
HOW TO BUY STAMP ONLINE?
Buying an online custom ink stamp gives you free choice to select your desirable shape, size, metal and all. You can select any pre saved template from the site and can order your stamp easily. You can also use an online stamp maker for this purpose. The online stamp business also gives you a chance to earn money. You can upload the template of a custom stamp on the site and whenever someone selects your template for use you will get a commission from the purchase.
These stamps are already inked so these do not require any stamp. This makes them user friendly and durable. These stamps are the most easy and quick way to make your business look more attractive. The only problem with these is that they are already inked and if you do not use them with care then it will leave a stain on your finger or on the document.
Hence, you should use them with care. stamps are in trend these days. Every small or big business is using its own stamps. The durability of a stamp depends upon the metal of the stamp. So, you should choose according to your needs. And seeing their higher demand the price in the market for these stamps is also negligible. You can easily afford a stamp for your business. So, we can say that stamps are the greatest way to deliver authorized documents or products to your customer. Surprise your loved ones with gifts made by these customized stamps. Contact StampStore to buy your favorite stamps now!