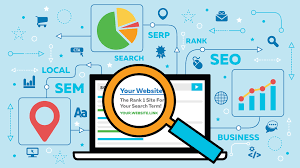 September 10, 2020
---
What is SEO?
Search Engine Optimization or SEO is a term used in online marketing for having free organic traffic from major search engines such as Bing, and Google. Google has 90% of the market share for the keywords searched online. It is very important to optimize your website for Google and align your optimization based on Google Search Algorithms.

SEO History
Larry Page and Sergey Brin created Google as a Ph.D. project in their garage. The initial concept of Google was to generate relevant results for the specific keyword. Google crawled the websites and created a page rank metrics for each and every page. The page rank is simply a ranking system to put your website pages on top or bottom. Page rank really did well during in the initial phases of the implementation. The page rank works in such a way that each and every page gets authority rank based on a number of websites linking to the page or website. The page rank has a scale of 1 to 10. 1 scale means that the page doesn't have authority links and scale 10 means that the page has a lot of authority links. In addition, to the links, the page rank was dependent on the keywords and on page optimization. Before 2008, any website with these factors could rank easily in Google. But things have changed, and Google's algorithm has matured to the extent of multiple parameters to provide the best-filtered results. Earlier, people can rank easily on Google just by tweaking their website or stuffing with the keyword. But today's algorithm is completely different from back in 2000.
Important factors to rank in Google:
Do List SEO
Natural Links
Natural link building is a strategy that helps a website to build links automatically. Focus on creating great content and approach few influencers to mentions about your content. Your backlinks are build up naturally when you get few visitors, and they mention your great contents on their website.
Quality Relevant Backlinks
Relevant backlinks are very good for ranking high in Google. Google understands the website better with the similar kind of related websites linking. It is tough to ask competitors about linking back to your website when you don't rank.
Domain Age
Domain age is one of the factors in Google to rank. The old domains get more priority in Google as because of the trust build with Google. It is not in your control, and you shouldn't buy an expired domain to get a high authority as you don't know what the domain was in use or the history of the domain.
Domain Keywords and Length
Keyword in your domain provides value to Google, and it helps you rank higher. In addition, the length of that domain is also important. Choose your domain wisely because it serves as your brand, easy to remember and ranking higher on Google.
Social Mentions
Google checks for how a website or a page is mentioned and shared on social media sites such as Facebook and Twitter performs.
Quality Recognized Site Backlink
Quality backlinks are very useful. For example, even it is not relevant, but if you are getting backlinks from high ranking websites, it really makes a difference.
Site Engagement
Site engagement is another factor for ranking in Google. How people respond to your website and get involved. A number of comments and reviews gives a positive impact on Google ranking.
On Page Configuration
On the page, the configuration is very important for Google site ranking. You have to understand the keyword configuration in title, description and using it on the content. The headers, titles, and paragraphs are also important. Google's latest algorithm can read the paragraph and image configuration.
Subdomain Keyword
Keywords in your subdomain can also rank you higher.
Domain Length
Domain length is very important for Google and for your brand. Most of the .com domains are not available, but you can buy some of these small premium domains from auctions or domain broker.
Domain History
Domain history is crucial for Google, check if the domain was flagged as web spam or malware website.
Public Whois records
Whois records should be kept public, and Google prefers to read and match the Whois records with your contact details on your website.
Country TLD
Use country domain extension, if you are serving in some specific country. Google understands and read through HTML about the defined country, country TLD and language defined.
Content-Length
Content length is now a very important factor for ranking in Google, If your article is in between 1700 to 2100, most likely you will rank better than any short content. Google values good content with the certain amalgamation of images, videos, and formatting.
Page Loading Speed
Check your website speed Google speed test. Google values high-speed loading of your website.
Page Update Frequency
Try to update your website with new content at least once per week. Google checks the sitemap for new content additions and
Mobile Friendly Website
Check your website for mobile friendly including tablets and other devices. Mobile friendly and responsive website is important because the technology has changed to on the move devices more than the laptops or desktops.
Number of Multimedia
Multimedia files put great value on your website. Recent, Google's algorithm values the combination of text and multimedia file for great content. So you can use infographics or videos on your content to upgrade your ranking.
Internal Links
Internal links provide a path for Google to link each and every content of the website. This provides a better ranking.
URL Length
When you write content or publish content, make sure you make your URL short and precise to the keyword.
Sitemap
Sitemaps represent the complete structure of your website. You have to submit sitemaps in Google Search Console for Google to index each and every link of your website.
SSL certificate
HTTPS is more preferable for Google because it provides assurance and security for your website and the users.
Links from edu or gov
Authority websites such as educational and government websites are more trustworthy than normal websites in the eyes of Google. Having certain links from these government and educational websites provide a positive impact on ranking.
Image alt tags
Images are not machine-readable, and Search engine only understands the tags associated with each and every image.
Google Search Console monitoring
Register in Google search console and submit your sitemap. Within 2 months you will understand what sites are linking and how Google is indexing your website. You can also check if you have error pages such as 404.
Avoid List SEO
Links from Bad Domain
Bad domain links are harmful to your ranking in Google. You have to manually google disavow links in Google search console. Example of the websites that are harmful is related to "any p*rn / gambling etc.
Some web spam websites are also harmful to
Web Spam
Spam websites are prone to zero ranking in Google. It is very important to make your website spam free. Once you are flagged spam or malware website, it takes a lot of time to get back to natural Google ranking.
Blog Comments Spam
Blog comments are flagged as spam in Google. If the comment is genuine and provides value, then it is a different case. But preferably, don't build your backlinks using blog comments method.
Directory Submissions
Directory submission services are outdated and give you negative impact on ranking. However, some business directories are helpful for getting the relevant traffic to your website.
Spin Article Submissions
Spin Articles and article submissions for link building is banned in Google and can lower your ranking in Google.
HTML Error
Check for any HTML or CSS error and validate your pages with W3 markup validation.
Parked Domains
Parked domains provide a negative impact on the search engine ranking.
Site Bounce Rate
Site bounce rate should be low so that people read and get engaged on your website. Google check for the amount of time spent and bounced traffic on your website.
Bad Reviews Google+
Reviews in Google plus is also a factor integrated into the algorithm. Try to get good customer service and give you positive feedback in Google.
Duplicate Content
Duplicate content is penalized in Google, and you won't rank at all if you have only duplicate contents. Some of the product based industry to face this kind of situation when the product descriptions are the same for every website.
Number of Outbound Links
Limit your number of outbound links as it might reflect that the website is providing any value addition. The outbound link should be limited and avoid affiliate linking. If you are providing affiliate links, then try to clock the links to your internal website address.
Broken Links
Broken 404 links are important to be fixed. Use Google Search Console to identify the 404 links and any other actions required.