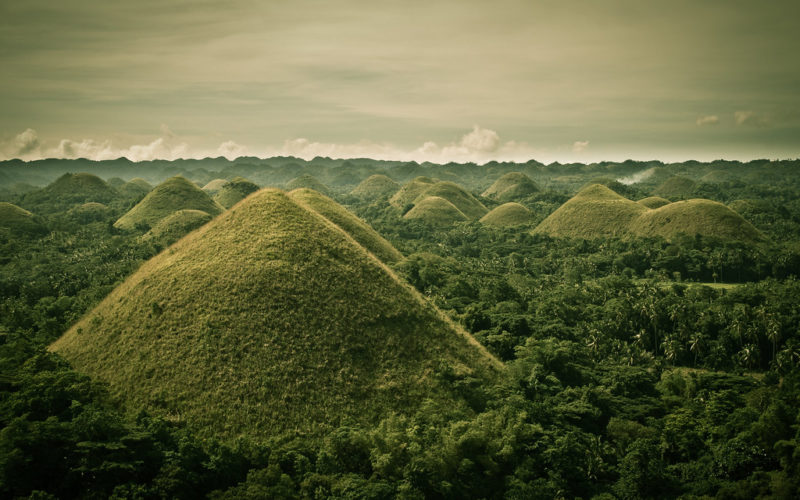 December 30, 2019
---
If you are a traveler then there is sure to be a list of places that you want to visit see and explore. Most of us are aware of the
seven wonders in the world
which consist of the Taj Mahal, Pyramids, the Great Wall of China, etc., most of us are also aware of the natural wonders like the great canyon, the Mount Everest, the northern lights etc. but believe it or not, there are thousands of other small and big places that are if not more then equally awe-inspiring and alluring places worldwide that are sure to take your breath away. This is a small attempt to bring you closer to the many other hidden or perhaps lesser-known wonders of the world. Some of them are –
The Phillips chocolate hills-
situated in the town of Carmen, this is perhaps one of the most stunning geological sites one can ever see. With their perfectly found hills covered in grass, and turning into a gorgeous shade of chocolate brown in the summers, these 1776-inch-high hills are a forest of giant chocolate like mounds.
Iran's Susa-
dating back to the 5th century CE and with its mention in the bible several times, Irans Susa is a notable ancient ruin in the lower Zagros Mountains, along the Shavur river. Even though some might find it gloomy, this place with a temple on the monumental platform and with its hundreds of ceramic vessels decorating the grace as a symbol of love is definitely something that has to be seen.
Meteora, Greece-
very popular for its exquisite sights, Greece's Meteora very well known in the eastern orthodox faith, Meteora is home to a complex of six monasteries that are built on top of sandstone rock formations. The term Meteora means in the middle of the sky and it will not be wrong to say that's the feeling you acquire when you are there.
Ukraine's tunnel of love –
if you are a romantic by heart and want to visit a place that gives you a chance to get lost in the many wonder's life can offer, then this is the place for you. Hidden deep in the forests of the clean, this 3-kilometer-long grass-covered railroad track is just the perfect place to not just feel love but also one of the best locations to do photoshoots. It is also believed that is you make a wish here; it is sure to come true.
Turkeys Ephesus-
a destroyed wonder of the ancient world, Ephesus is a wonder that has witnessed centuries of history and bears the largest collection of the Roman ruins in the Mediterranean. If you like a brush with the pat, then it is a must for you to visit this place. Traveling is not just all about visiting and place but also one of the best ways which enable a person to find the best version of themselves, to find a chance to go beyond their comfort levels and find the right means to enrich their lives. Happy traveling.