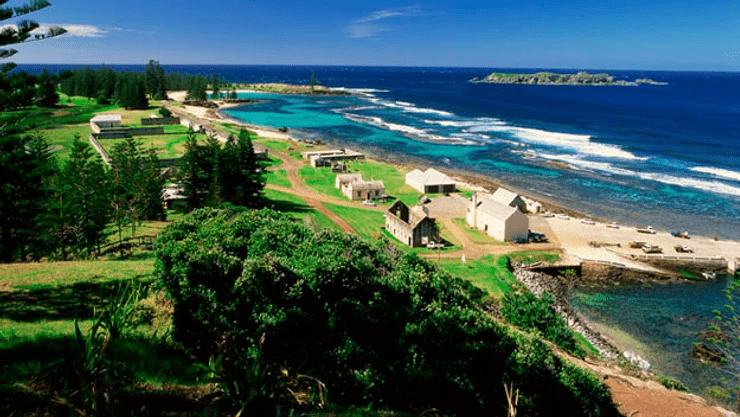 May 14, 2021
---
2020 was an interesting year, to say the least.
Alright, maybe it wasn't really fascinating, rather annoying.
None of us got to travel and explore this beautiful earth we call home.
2021 is a new year, and although we have high expectations from this year.
One thing you can do is spend time at home planning your travel to Norfolk Island.
Here's why this is a better idea than just working and spending your time mindlessly scrolling through Instagram.
The first and primary point you must take into consideration is that Norfolk Island offers a breathtaking scenery and is infused with rich culture.
If you haven't heard of the island, let me be your guide!
Of course, the easiest way is to Google it, but I suggest you take your imagination on a walk.
Place yourself in Brisbane  Do you see Auckland on the north island of New Zealand?
Try to connect the two cities with an imaginary semicircle.   Choose the midpoint on this line, and voila! You've reached Norfolk Island!
Considering it's a tiny island, I suggest you pre-book your accommodation on Norfolk Island.
Although in the middle of the Pacific it is still part of Australia and is an external territory – a domestic destination.
Now, let's get to the real deal, planning your holiday in Norfolk Island.
How to Get there
If you're in Sydney or Brisbane, you can catch an Air New Zealand flight which will take you directly to the island in about 2.5 hours.   Even though it leaves from the international terminal it is still only a domestic flight so you will just need a photo ID to travel, or preferably a passport if you have one.
There are currently no flights from New Zealand to the island until the travel bubble has been established.
Norfolk Island Holiday Packages
I am a big advocate for trying out holiday packages when it comes to exploring new places. This way, you make sure you're not missing out on any of the fun and exciting things on your holiday.
Plus, you don't really have to stress about the planning process either.
When talking about Norfolk Island you can be assured that your stay on the island is going to be informative and relaxing.
The island has a some hotels but most options are self-contained so you get to pick out your Norfolk Island accommodation according to your preferences.
On the island, you're going to capture some of the most amazing pictures of nature and relax in the soothing sound of the winds and waves.
Things to do on the Island
Norfolk is for everyone!
It offers a wide range of activities that will please almost everyone.
Let's check them all out!
Golf and Mini Golf
The climate on the island is mild, making it ideal for playing sports. The grounds for both of these are well-maintained and perfect for the newbies and advanced players alike!
Swimming and Snorkelling
Being on an island, if these aren't the two activities you do, then what's the point, right? The best place to snorkel during your Norfolk Island holiday is on the inside of the reef at Slaughter Bay and the best beach to check out for a safe swim is Emily Bay. The fishes here are friendly too!
There's a lot more that you can do during your holiday on Norfolk Island, like playing tennis, squash, hiking, relaxing and having fun.
The vast green lands surrounded by the deep blues of the sea and sky makes life so much better!
Clothes to Wear on the Island
As you must have figured out, the island has a sub-tropical climate. You won't ever experience scorching heat or require more than a jumber to keep you safe from the cold.
If you're going to plan a special dinner for two on any evening then smart casual should do the trick.
Make sure you carry sunblock to this beautiful island or it may leave you with a patch of sunburn – not the best souvenir!
One of the most important things you want to carry is a pair of durable sneakers or walking sandals. Since you'll be walking a lot while checking out the scenery that Norfolk Island has to offer, you want to be comfortable.
Best Time to Travel to Norfolk Island
If you want to get the best out of this holiday then I suggest you travel in the time between October to March – very popular times of the year.  During these months, the rains aren't as heavy and the sun shines.
The weather is fabulous and gives you great opportunities to explore the beauty that lies on the island.
During January, February, and March, it's a bit warmer and is the perfect time to go swimming.
Honestly speaking, I loved my holiday on Norfolk Island during October!
It was pleasant spring-like weather, absolutely perfect.  You could just sit by the beach or relax on your accommodation's deck.
There you have it.
Everything you needed to know about Norfolk Island and how to plan the best holiday there!
I hope you have a great time!
Author/Bio:
Nancy Perez works as a Senior Travel Consultant at Channers on Norfolk. Being a travel enthusiast, she loves to write and blog about travel-related topics. Channers on Norfolk offers holiday apartments with a range of options. It is situated within a walking distance from many restaurants, cafes, clubs and shops.