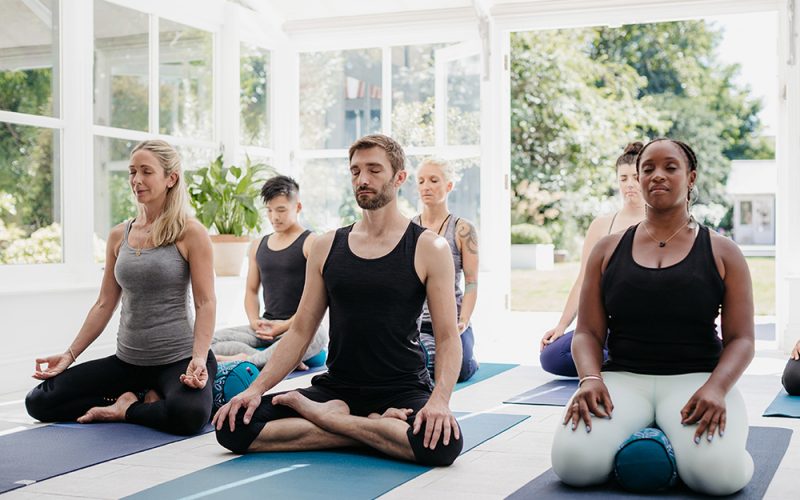 November 28, 2019
---
A yoga practitioner should follow some instructions:
Before yoga
Set a calm and clean surrounding to perform yoga.
Yogic practice should be done on empty stomach. You should consume honey with lukewarm water to feel energized before doing yoga.
A clean and comfortable yoga mat or mattress should be used.
Comfortable cotton clothes should be put on for easy movements.
In pain or cardiac illness, you should consult your yoga instructor or physiotherapist prior to perform yoga.
Counselling with yoga instructor or expert should be done during pregnancy and menstruation.
Cleanliness in body and mind is required before performing yoga.
While practicing yoga
You should start your yoga practice with prayers or enchanting Oum to relax your body and mind as well.
You should be aware about your body and breathing patterns while performing yoga.
You should not hold your breath if it is not required.
You should not stiffen your body or give unnecessary jerks while doing yoga.
Perform yoga practices within your capacity.
If you want to have good results, perform yoga regularly.
Yoga session should be ended with simple body stretching, meditation and deep silence.
After yoga
You should have a bath after 20-30 minutes of yoga session.
You should consume food only after 20 to 30 min of yoga session.
Dietary requirements
Vegetarian diet is recommended to ensure that the body and mind are flexible and capable for yoga practice.
Why yoga is essential?
Yoga is giving you a way to liberation from all the problems and stress of life.
Yoga is helpful for physical, mental and spiritual well-being. Yoga can be helpful in musculoskeletal and cardiovascular illness.
Yoga is beneficial in diabetes, respiratory diseases, hypertension, hypotension and many lifestyle related illness.
Yoga is helpful to overcome stress, depression, fatigue and anxiety disorders.
Yoga can regulate menstrual cycle.
Yoga can give beat up your sleeping problems and give you a sound sleep.
Yoga can improve lung capacity and brain functions.
Yoga can enhance the blood circulation.
Yoga can improve your body posture.
Yoga can stimulate your body to fight with disease and increase immunity to beat up with illness.
When you feel healthy from within, you can feel healthy from outer side. If you have gained enough inner strength, you can have great physical strength to feel flexible and strong and healthy.
Yoga can regulate your metabolism as it increases the digestion. Yoga activates the gastrointestinal system and eliminate the gas that evolves from stomach.
Yoga can boost up your sexual desires and improves sexuality.
A regular practice of yoga can give you a heavenly calmness by detaching you with your surroundings for a while.
Yoga is absolutely worth trying. Stay healthy and happy!