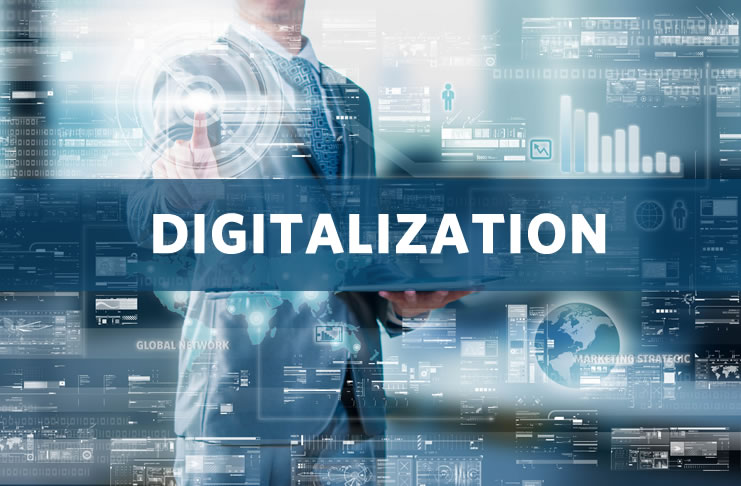 Digitalization and its many benefits
December 30, 2019
---
Judging from the way things look in today's time and age, it will not be wrong to say that all those enterprises and industries that are not keeping themselves abreast of the updates and advancement and developments are surely going to die a slow death. In other words, if you are an enterprise who has not updated their management and presence in sync with the digitalization then you are surely in for big troubles.
What is the digital future and what makes it so important?
Digitalization is all about digitally bringing organizational changes in all possible business operations. In other words, it can be explained as the way that you function and deliver and interact with your customers. Right from the supply chain to the workflow, from the number of employees that you have to their respective specialties, to the number of people like your products to their feedback and finally, to help you in finding your way to reach them, digitalization is slowly but defectively changing the business scene all over the world. the data-driven main purpose of this entire application is to provide effective methodologies to create data-driven strategies and innovations.
With the tremendous advancements and developments in the field of artificial intelligence and IoT, digital transformation has taken a big leap and has played a very significant role in creating global connectivity.
So, what are the factors that contribute to making digital transformation the key to success? It's their speed and accuracy, no matter how hard one tries to achieve the kind of efficiency and accuracy these management giants have, nothing can succeed. Let's have a quick look at some of the biggest advantages of digital transformation.
– Data backed decision making
Leveraging the power of digital transformation ensures that you have the right ways to track the metrics and analyze the collected data during a process. Based on these insights, an enterprise is an any day better position to check and evaluate their strategies and analytics and make all the necessary changes to achieve better results.
– Implying data-driven insights
The implementation of this means to give you a better understanding of your customers' behavior, what they like, what attracts them the most, what is their feedback on your products and what is being the most liked by them and what not? Once you have established a clear understanding of the preferences of your viewers, you are anyway in a better position to adopt all the right methods that will take you closer to conversions.
– Creating the right balance at the workplace
One of the biggest advantages of digitalization is that it majorly removes all the hierarchy systems at your workplace. With access to the right information at the right time, the work environment automatically becomes less soiled.
There is just no denying the fact that from creating a better and a more planned management and strategic system to finding the right means to communicate with your viewers, digital marketing is one of the biggest platforms helping you do not sustain your presence in this highly competitive world but also to help you in realizing your dreams of making it big.