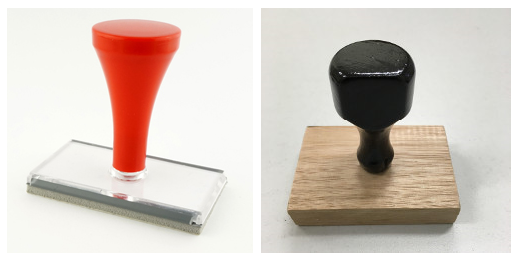 4 Different Types of Rubber Stamps Used in Every Business 
March 24, 2020
---
Today, there are various types of rubber stamps available in the market, which are used in business industries or offices for different purposes. These stamps help to reduce your work stress and increase daily work productivity. So, you will be able to get more work done in less time. The rubber stamps come in different shapes, sizes, and colors. Each type of rubber stamp is used in different functions. Therefore, you can find the different types of rubber stamps here.
Handle mount rubber stamps
This is one of the most familiar rubber stamps among the people. These stamps are the oldest stamp, which is made by mounting the rubber stamp on a handle. This type of rubber stamp comes in as many as 19 different sizes, but you need to buy a separate ink pad for this. Also, you can buy both a rubber stamp and an ink pad at lower prices. Today, the handles are made with a variety of materials such as wood, plastic, or metal. The plastic handle rubber stamp is cheaper than wood handle but metal handle stamp comes for long-lasting than others. If you are the person using the stamp often, then buy a good quality of rubber stamps.
Wood rubber stamp
Wood type of custom stamps is also the same as handling mount rubber stamps, but it comes without a handle. Also, you need to buy a separate ink pad for this. Some mount features a laser engraved index for a beautiful aesthetic, and for other mount feature stickers. You can use this stamp for different kinds of crafts work, which offers an eye-pleasing appearance. You can do the DIY project fast and easily using these versatile ink pads.
Self ink rubber stamp
Self ink rubber stamp is also a well known and popular type, which is already attached with self ink. Therefore, you no need to buy a separate ink pad. If you want to reduce your work, then a self ink stamp is the best solution. Also, the attached rubber dye is replaceable and refillable, so you can refill the ink after it's got over. These types of custom stamps come in various colors such as blue, black, green, red, violet, and more colors. It comes for long-lasting so you can use this for more than thousands of impressions. However, it is a little bit more expensive than other types of rubber stamps. The self ink stamps are perfect for the people who looking for perfect and quality impressions that are fast, clean and easy
Pre-inked rubber stamp
Pre-inked rubber stamps offer a crisp and clean impression for superior quality every time. The style mount comes with a pre-inked cartridge so that the stamp pad becomes part of the stamp. An oil-based pre ink stamp offers the high quality of impressions for designs, and that is required for intricate details such as signatures or notary seals. Also, the stamping is virtually silent and requires minimum pressure. A pre-inked rubber stamp is a more expensive stamp than all other type stamps. However, it doesn't require a separate ink pad, and which gives more than twenty thousands of impressions before re-inking. This type of stamp comes in a variety of mounts and sizes. So that you can buy the different size and mount stamp as your need.