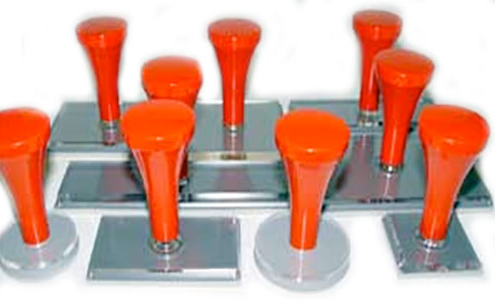 July 15, 2020
---
It won't be surprising if you have rubber stamps in your house, as many people keep these stamps at their house, and especially if you are from a business family, it is an absolute necessity. But, do you know what is the purpose of it? And what are the types of rubber stamps? And also, why is it called a rubber stamp?
This device is made of that is used for impression purposes, these stamps and are mainly used for stamping on legal documents and other contractual papers. They come in various shapes and sizes. These custom stamps are very much in demand in the market as they are very much used in commercial as well as personal purposes.
Uses of stamps
These devices are generally used for putting ink impression on paper documents and other official deeds. These are mainly used in government institutions as well as business forms, law firms, and sometimes these are used for personal use.
You may have seen that in any official notice from your school, college, or any other institution, there is always a stamp bellow or on the signature which confirms that the notice is authorized and without the stamp, it is just another piece of paper. This is how important a rubber stamp impression is used and how powerful it impacts can be. But, it is advised that you should choose a stamp which is suitable for your purpose. Do not compromise with quality before cost.
Types of stamps
With time there have occurred many changes in the pattern of the stamps, and a new type of stamps are also made, which makes the work easy and tidy.
As mentioned above, that stamps are mainly used for legal documentation or official purposes. Here are the four types of rubber stamps that are available in the market:
Handle Mount stamp
This is the most common stamp which you can find in every household's best bite being old. It has not lost its significance as well as demand in the market. By the name, you can understand it has a handle like structure which helps you to hold the stamp properly before imprinting on a paper.
Traditional stamp
This is another common and old rubber stamp that you can find in your household. It is mainly made up of wood, but sometimes You get to see it made of plastic as well as metals. However, metal rubber stamps are long-lasting and have a little bit of demand while plastic is cheap, and they can be broken easily. However, the old Wouldn't traditional stamp has popularity, and it is bought by a maximum of the people for their personal works and in any case as an emergency spare stamp at home.
Self-ink stamp
It is a new type of stamp in the market; this is mainly used in bank another corporate company where the stamping job needs to be tidy and perfect. By this name, you can already understand that there is no hassle of separate in pad everything is combined within this small stamp. This time provides a very tidy presentation after work, which is why it is the most demanded stamp throughout the world.
Pre-ink stamp
This is somewhat similar to the self ink stamp provides a classy impression on the paper due to its oil-based design.
The benefit it provides is that you don't have to put much effort and strength as well as time in the process of stamping which traditional and handle mount rubber stamps require. With the help of the pre-stamp, you can be done with your work smoothly and quietly. For more details visit our official website and contact to StampStore.
Read more on below links:
Help Your Organization to Stand Out From Competitors
High Quality and Seamless Customization Date Stamps