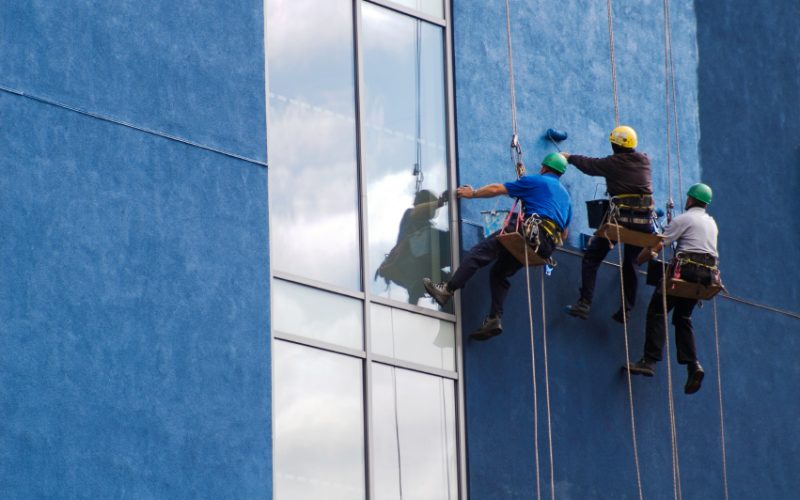 May 15, 2020
---
Painting a high rise building is different from painting a simple wall or a building that is easily reachable. The obvious challenge for repair work, maintenance, or painting of high rise buildings is reaching the high places and other hard to reach areas. The main purpose of painting a building is to ensure that it is aesthetically appealing and at the same time, it also helps preserve a building and increase the life of a building. A professionally painted building brings out the best of a well-constructed building with stunning architecture.
There are several techniques used to access great heights like scaffolding, cranes as well as abseiling. Scaffolding technique and use of cranes can be very expensive; on the other hand, the abseiling technique is simpler, more economical, and is easy for professional high rise climbers. This article explains what is abseiling and provides tips on how it is done. It is a must-read for those searching for high rise painters.
What is Abseiling?
The word 'Abseiling' has been derived from a German word and it means to 'rope down'. This is a popular method of accessing great heights and scaling high buildings is one of them. This technique is also used for the purpose of mountain climbing, skiers, snowboarders, mountain bikers, etc. It happens to be one of the best techniques to access high buildings for the purpose of painting and is something that is easily achieved by highly skilled abseilers. Rope access painting in Sydney is used for many different types of high building projects like roof painting, high rise building painting, painting factories, and warehouses painting bridges & stadiums as well as houses.
Tips for High Rise Painting
Abseiling technique uses a rope that is secured from the top and helps the high rise painters abseil down. Here are several tips for the purpose of high rise painting:
Ensure the path to abseiling down is clear of any obstructions.
It is essential to attach a rope to a harness around the waist of a painter, with the help of a friction device.
This is done by leaning out backwards and facing a building and using a friction device to control descent while painting a building.
This technique makes it possible to access hard to reach places as well that would normally be very hard to reach using conventional techniques.
Finding the Right People for the Job
High rise painting is a challenging job that requires special skills. It is best to leave this to the job of high rise painting to the experts since it requires special painting skills as well as the ability to access high areas using the abseiling technique. It is also essential you find a professional firm for the task; here are several tips on how to do so:
Ensure the painting firm you select possess two types of insurance; They should have an insurance that protects the building and another that protects all workers painting at the property.
It is a good practice to check all reviews of a firm prior to selecting them.
Look out for agents who simply subcontract their jobs to other random contractors, since this can affect the quality of a paint job.
Inquire about the type of products used and ensure they are eco-friendly.
Define the scope of your project at the very beginning since this will dictate cost as to how the entire painting project is managed.
For highrise painters and painting via rope access services, contact NextLevelPainting for more service related queries.